Discover more from Webworm with David Farrier
David Farrier's weird investigations, quirks & oddities delivered direct to your inbox!
An update on the smug MAGA-hat wearing teacher.
And a way you can support this newsletter, if you want to!
Hey!
Just quickly before we get down to things: on July 15th, I'm going to be switching on paid subscriptions — which basically means if you want to support the work I do here, you can.
There's an early bird rate for the next few weeks of $5 a month or $50 for a year (after that it'll be $6.99 a month or $69.69 per year). All this is in USD, American dollars. You can sign up here:
To be clear, I will still send out at least one free newsletter a week, but for paying subscribers I will be sending out all my articles & investigations, along with access to monthly AMAs, and posts that are a little more personal and behind-the-scenes. And you'll be directly supporting my writing & investigations.
It's a privilege to write for you, and it's been humbling how many have signed up for what started as a lil' side project.
Again — only become a paying member if it won't cause you financial hardship in any way. I know we're in the middle of a fucked-up global pandemic, and there are plenty of worthy places your spare money can go. Free content will keep coming!
With that in mind, let's get onto things!
David.
---
Where I'm at with the MAGA teacher:
Back at the start of June, I wrote an open letter to Manukau Christian School about one of their teachers, who had shown up to a Black Lives Matter march in a MAGA cap: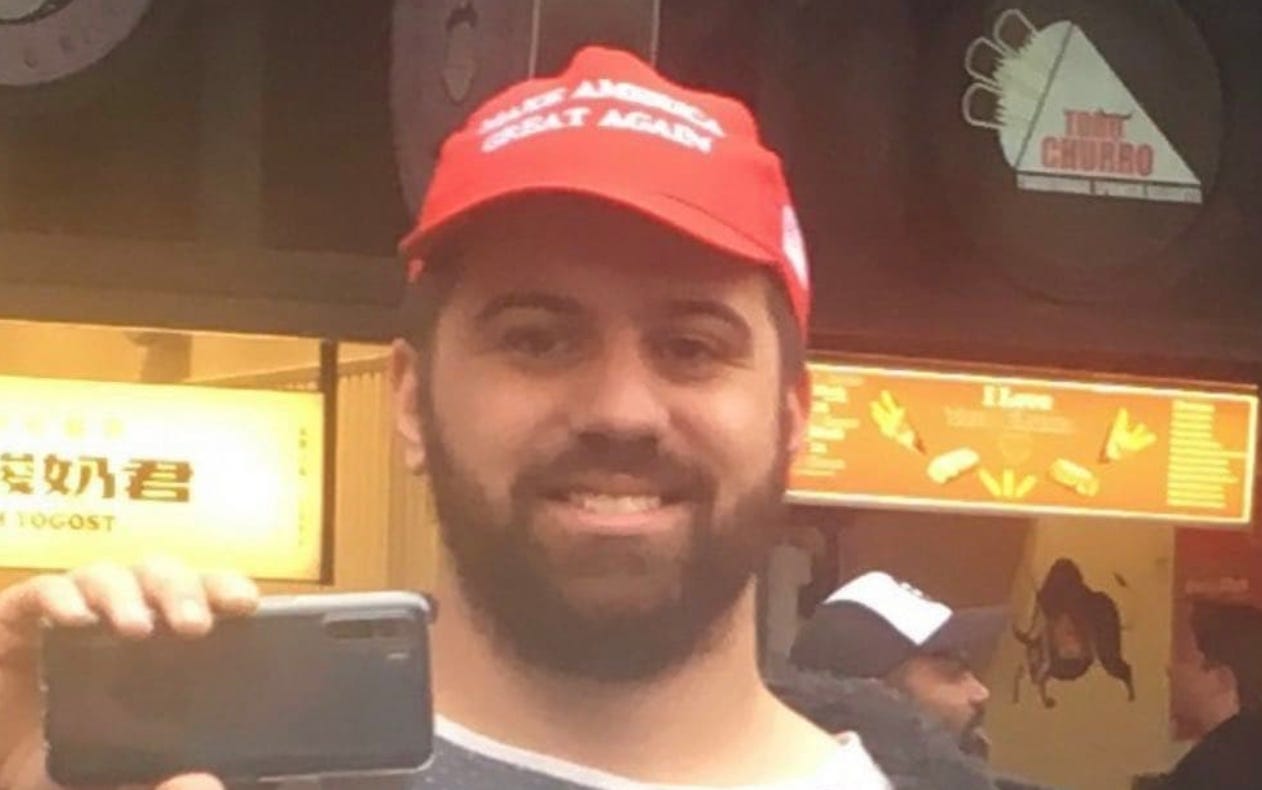 In the open letter I detailed what the MAGA hat represented, and my disappointment that teacher would choose this moment in history to be, well, a massive prick.
I also deep dived into the school's newsletters, where I found him rallying against the "LGBT revolution". He also quoted Ben Shapiro, a right-wing fuckwit who most recently defended Trump's retweet of someone yelling "WHITE POWER!"
As I hit "publish" on my open letter, I also emailed Manukau Christian School asking for comment. I ended my e-mail with this:

I wasn't saying "fire him", in fact I clearly stated I just wanted to hear from the school about what the hell was up.
I didn't hear back, so I kept emailing.
Nothing.
So wrote to the Teaching Council, which I understood to sort of keep an eye on what schools in Aotearoa were up to.
According to their website, "We'll work with you to champion all that's best about teaching - good practice, new ideas and inspirational leadership."
This is what I wrote:
I am a journalist and documentary filmmaker writing with concerns about a teacher at Manukau Christian School, ***** ******.

I am sure you are aware of the controversy around him wearing a MAGA cap to a Black Lives Matter protest - a hat which has come to represent racism, bigotry and hatred.

I looked further into ******'s work, and found some of his school newsletter writer contained unattributed quotes to the likes of Ben Shapiro - which was, amongst other things, homophobic. 

I found this alarming, and wrote an open letter to the school here, that I think should be brought to your attention.

Best,

David Farrier
---
I got a reply the next day, on June 4th.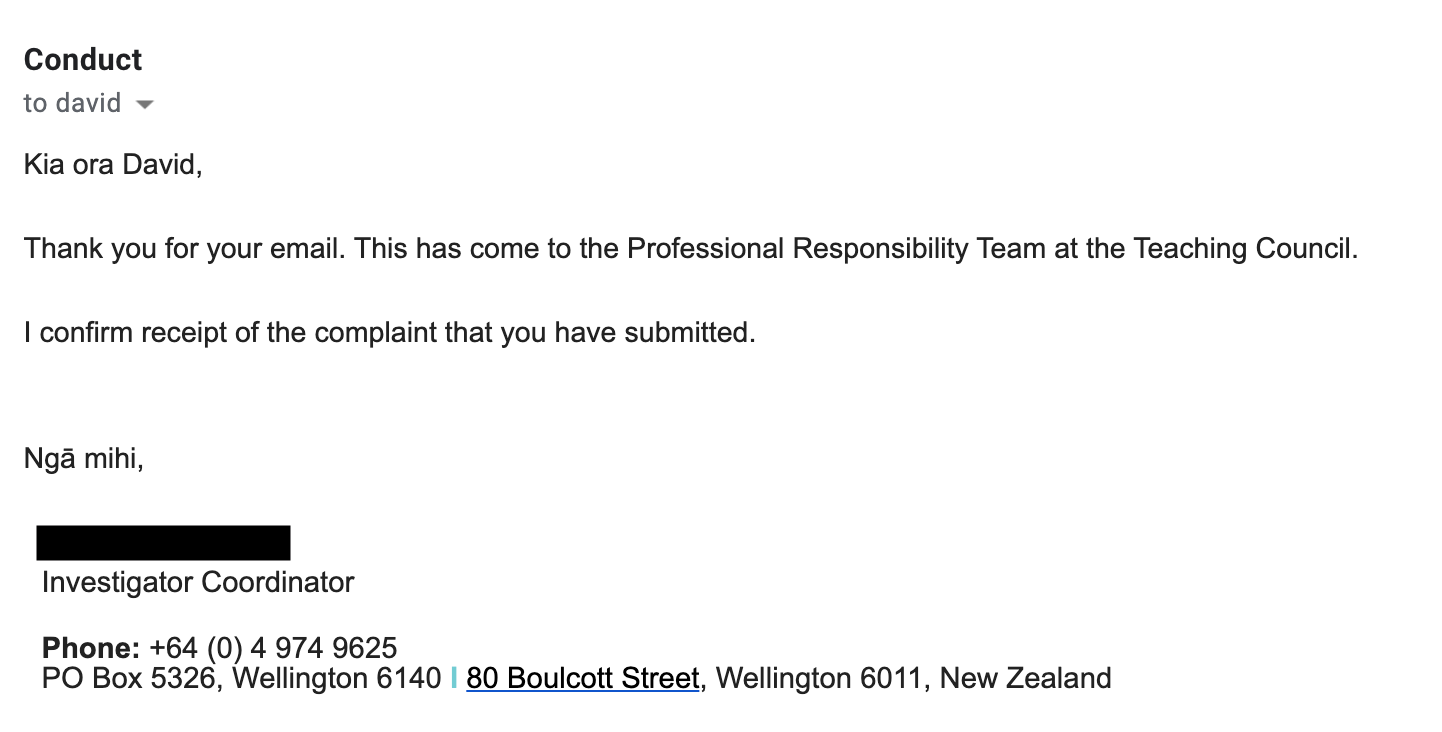 Always good to get a receipt, I guess. In the meantime I kept emailing the school, because it was radio silence. I extended my emails to the school's principal.
Nothing.
Then, on June 15th, I heard back from the Teacher's Council, who I sort of imagined looking something like this: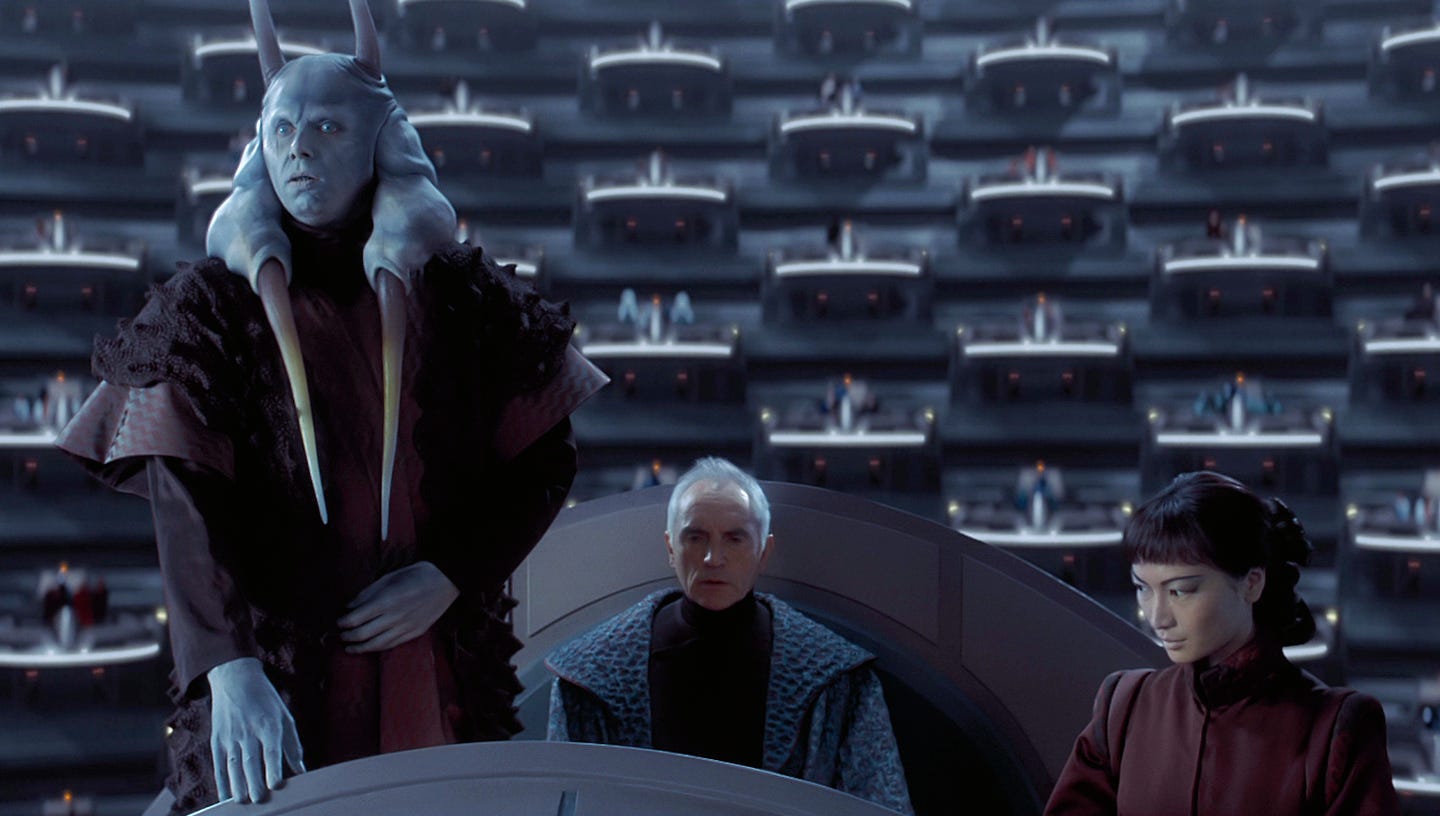 This is what they had to say after about 10 days of thinking about things: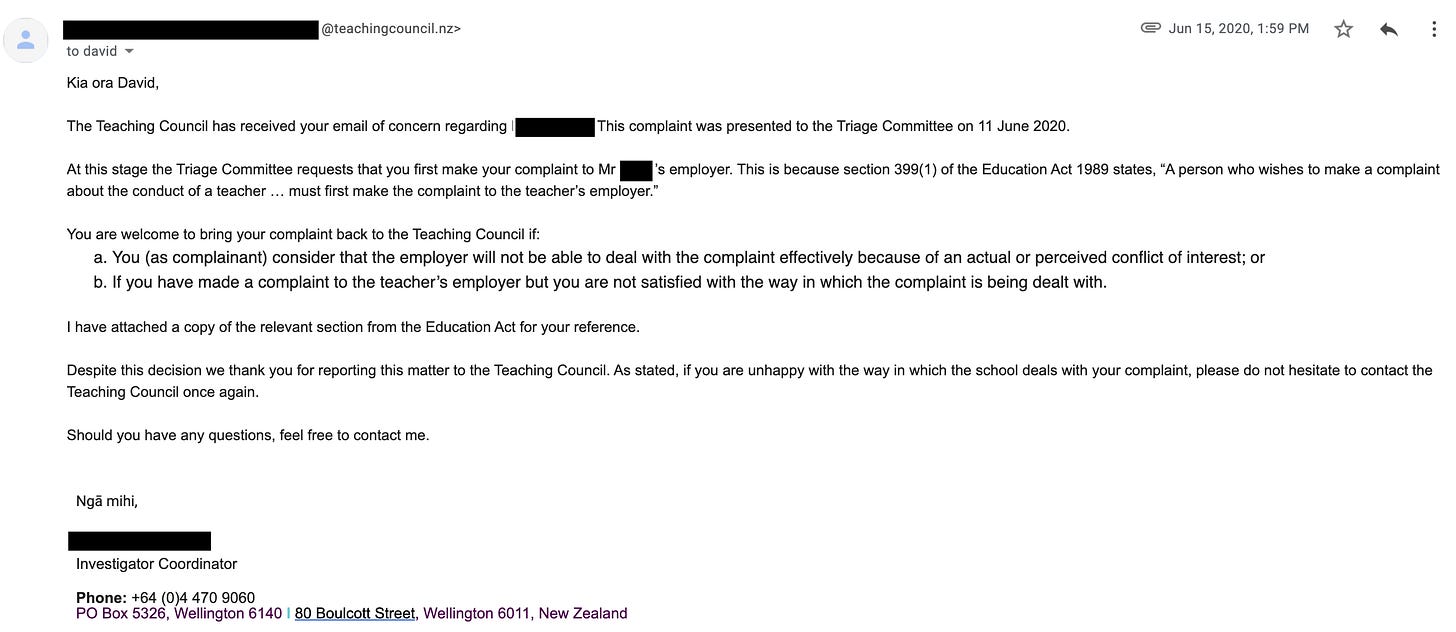 Despite being assured my letter and comment had reached the "Triage Committee", I guess their main point was "this isn't our problem mate."
At this stage the Triage Committee requests that you first make your complaint to Mr ******'s employer. This is because section 399(1) of the Education Act 1989 states, "A person who wishes to make a complaint about the conduct of a teacher … must first make the complaint to the teacher's employer."
I wrote back explaining that I had already made my complaints and hadn't heard a single peep.
The Teacher's Council wrote back again:
I have now notified the Triage Committee that you have lodged this this complaint to Mr ******'s employer. At this stage we are unable to review the matter until the this matter is dealt by the school in the first instance.
In other words "we are an entirely useless."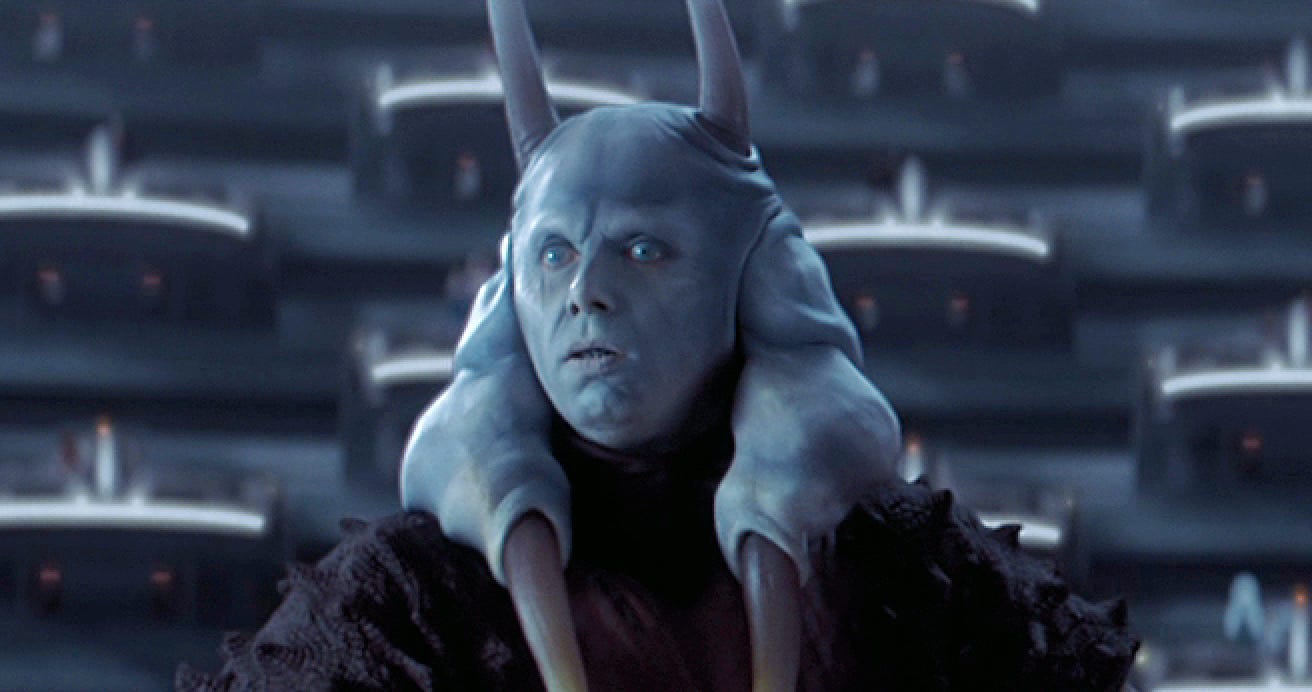 So yeah, I will keep writing to the school, and I will keep writing to principal Pete Slaney.

So that's where I am at.
TBH, I am busy as hell right now — but I wanted to let you know that I am trying to find some answers, and wanted to let you into the process. Next I guess it's picking up more phones and maybe snail mail?
On a personal note, yes, this stuff clearly annoys me. I went to a private Christian School, and I remember the bullying that went on with gay kids there. Not all of them made it out alive. So when I find out a teacher is rallying against "LGBT" kids in the schools newsletter — as well as wearing a MAGA hat to a BLM protest — I get pissy.
And of course the school just shuts up and doesn't give a shit.
I am sure Jesus would be impressed.
David.
---
On a positive note:
Last week I wrote about a dating App called Struck that had been banned from the App Store. I was a beta tester of the app, and it kicked ass. I was gutted they'd been kicked off before they'd gotten a chance to thrive.
Well, that newsletter spread far and wide, and some people took notice. It turns out Apple has been messing with a lot of people lately, and some cool developers weighed in on what had happened to Struck:
I also got some great DMs from people in the industry — saying things like "Apple is running scared after almost getting their big developer show derailed this week. I shared your piece with a couple key voices in the Apple dev community…"
And then — a day later — Apple reversed its totally bullshit decision.
Struck is now online. I'm so happy for the app's tiny, dedicated team.
---
Thanks for reading Webworm and for your support — in both this, and my other stuff.
It means heaps!
David (and Doggo).