Discover more from Webworm with David Farrier
David Farrier's weird investigations, quirks & oddities delivered direct to your inbox!
Kiko the kitten
How a tiny creature came into my life, and out of it again (this has a happy ending, don't worry)
Hey friend,
I hope your weekend is going okay. The world feels pretty heavy lately, and if you believe Pulitzer prize winner Chris Hedges, things are going to be getting much, much worse.
Which is why I wanted to send you this little photo essay I made about Kiko, a tiny kitten who came into my life on January 3rd, at 4.50pm.
I know the exact time because it was digitally marked on the photo I took.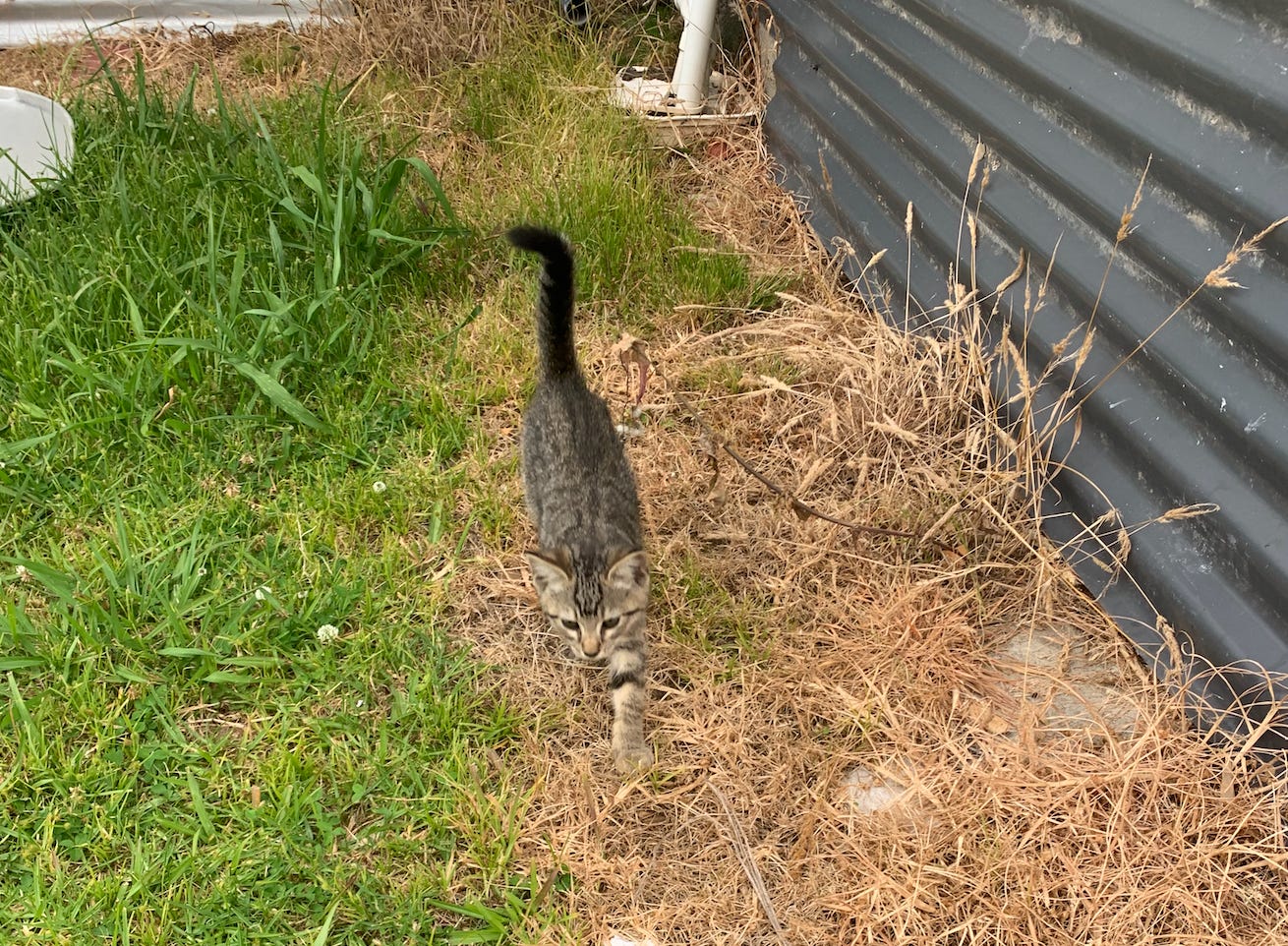 My friends and I had travelled north for New Year's.
The further north you go in New Zealand, the more beautiful it gets. I grew up in Whangarei - so would often spend summers at one of the cute beaches just north of there, where a corner dairy was the only reminder of city life. Kids would ride by on horses. They didn't have saddles, because they didn't need them.
Beaches are scattered everywhere up there, and it's where my dad and older brother taught me how to snorkel and kayak and fish.
---
But for this trip we went to a spot I'd never been to, near the start of 90 Mile Beach. It's on the West Coast, which is much more exposed and unforgiving than the east. You can swim, but your towel will probably get blown away.
Towards the end of our stay, we drove 20 minutes inland to what must be one of New Zealand's most isolated and impractical pubs. I say impractical because the only way to get there is to drive, so the only way you're getting home is in a car. There's barely any cell service, and even if there was, there's no taxis or Ubers to call. If you drink, the only way you're getting home safely is for someone to drive you.
Which is all part of its charm, I guess.
We were eating our burgers (delicious!) and drinking our beers (yum!), when I heard a tiny, furtive "meow" coming from under the outdoor balcony we were sitting on. It was an incredibly gentle sound, and I went to investigate.
Emerging from under the pub, a tiny, feeble kitten.
I have never met a creature so fluffy and friendly. And I've met a lot of creatures (my dad trained as a veterinarian). She ran up to me, practically leaping into my hands.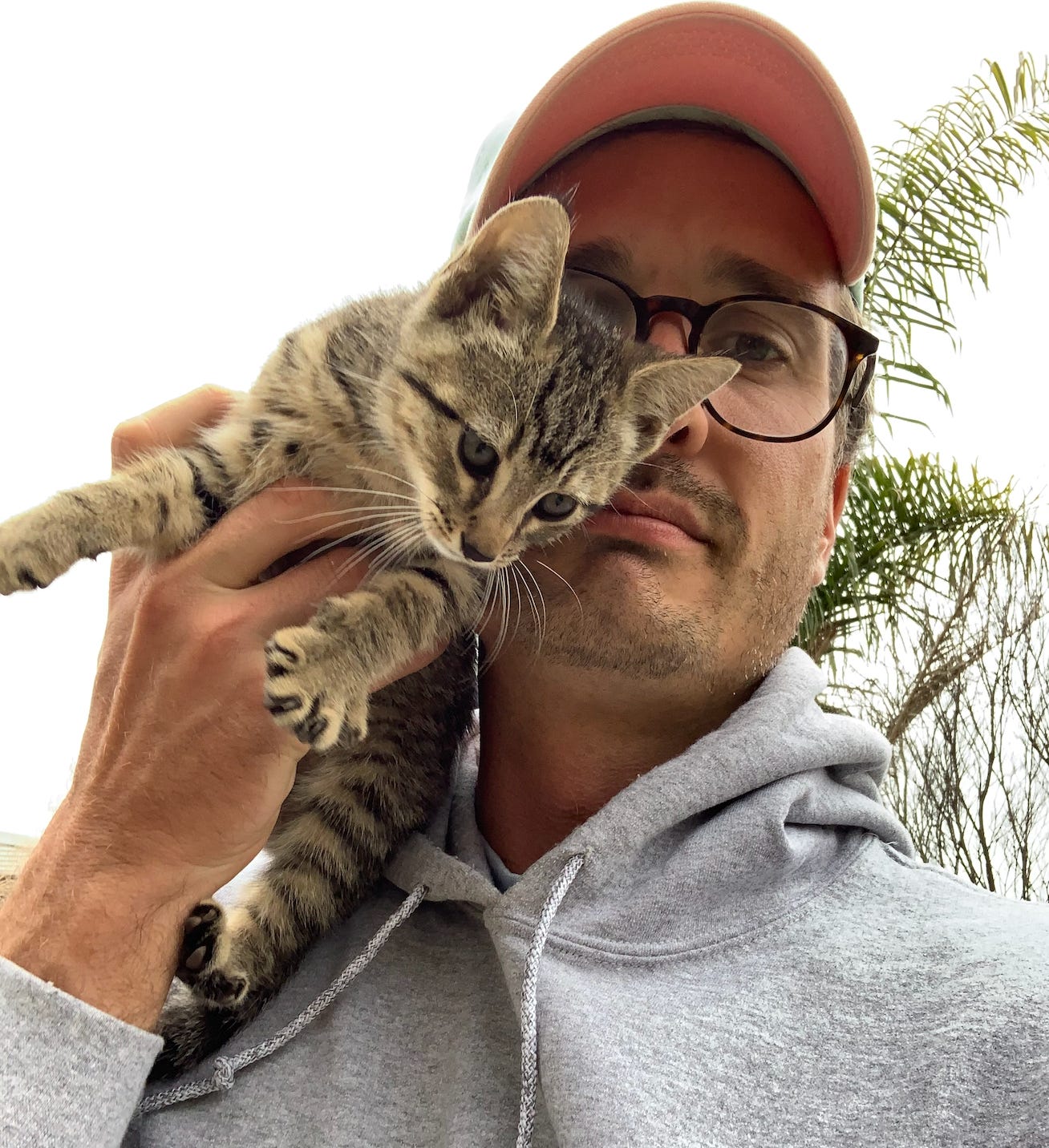 I brought her up onto the balcony, and she spent the meal weaving between the five of us. She took a liking to my friend Hayden.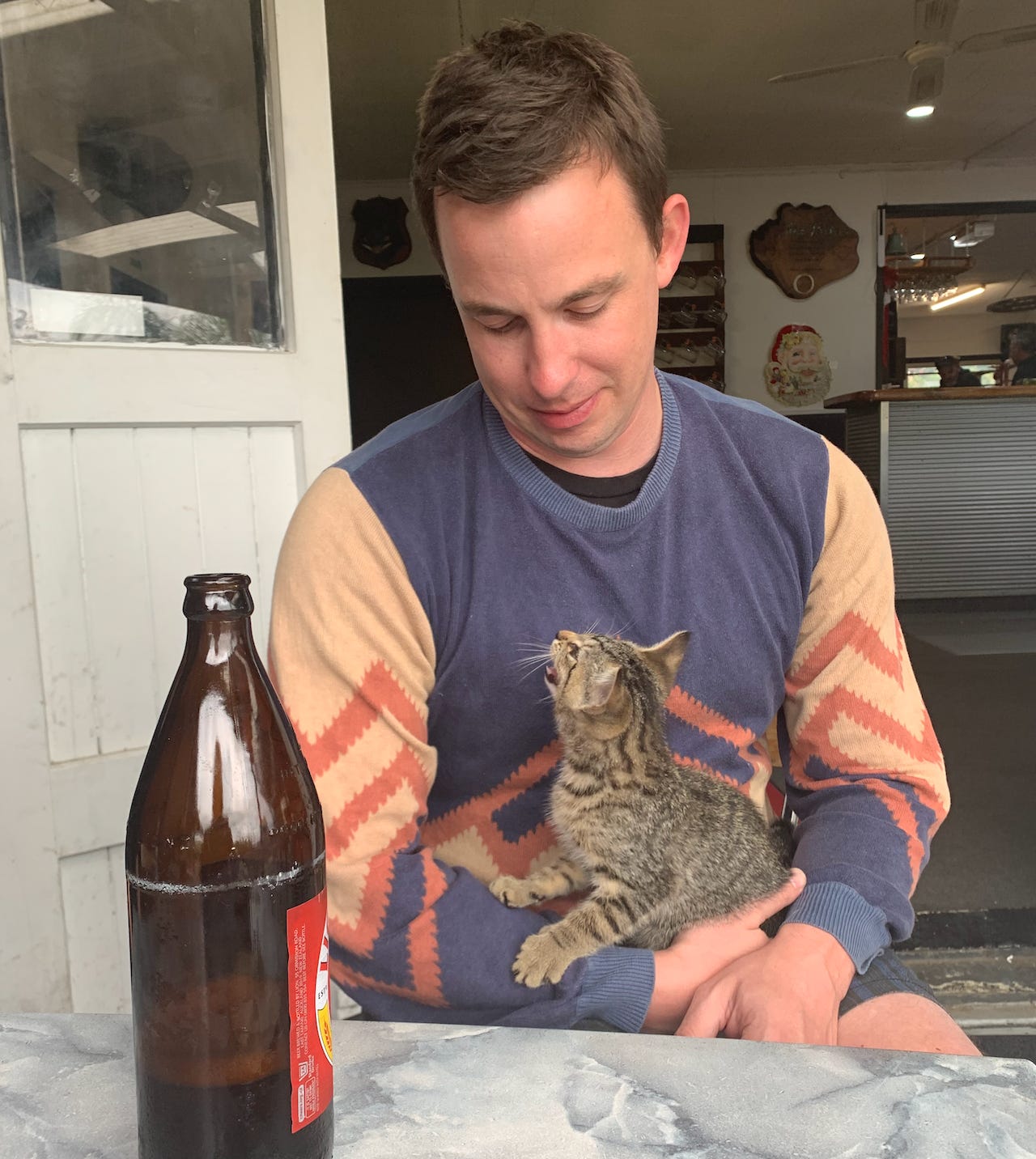 What became pretty clear was that she was pretty fucking hungry.
When the bartender (probably the owner) came out, we asked after the kitten. He said it had been there since New Year's. There was no mother or siblings to speak of, and his guess was someone had dumped her. Maybe an unwanted Christmas present.
He said there was little point in dropping it off at an animal shelter, as they'd all be full. Chances are she'd end up being put down. He said he wasn't a cat guy himself, but went inside and heated up some chicken nuggets. He emerged, beaming. The tiny creature eagerly munched them down.
We consulted as a group, and figured we kinda had to take her with us. Her future at the pub didn't seem great. The owner jumped at the idea, bringing us some more nuggets, and a cat cage in the form of an empty beer box.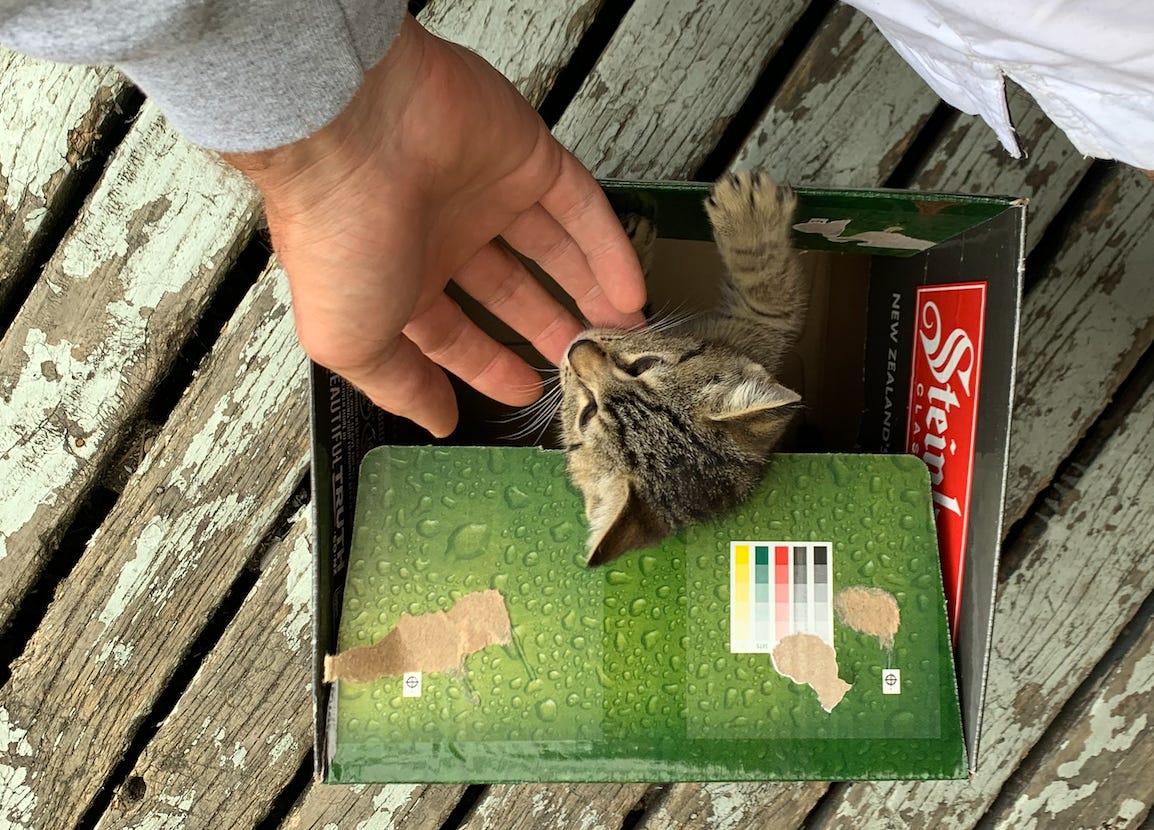 Our Airbnb didn't allow pets, but we figured the kitten wasn't really a pet. She was an interloper, a rescue, a friend.
A friend who was very thirsty…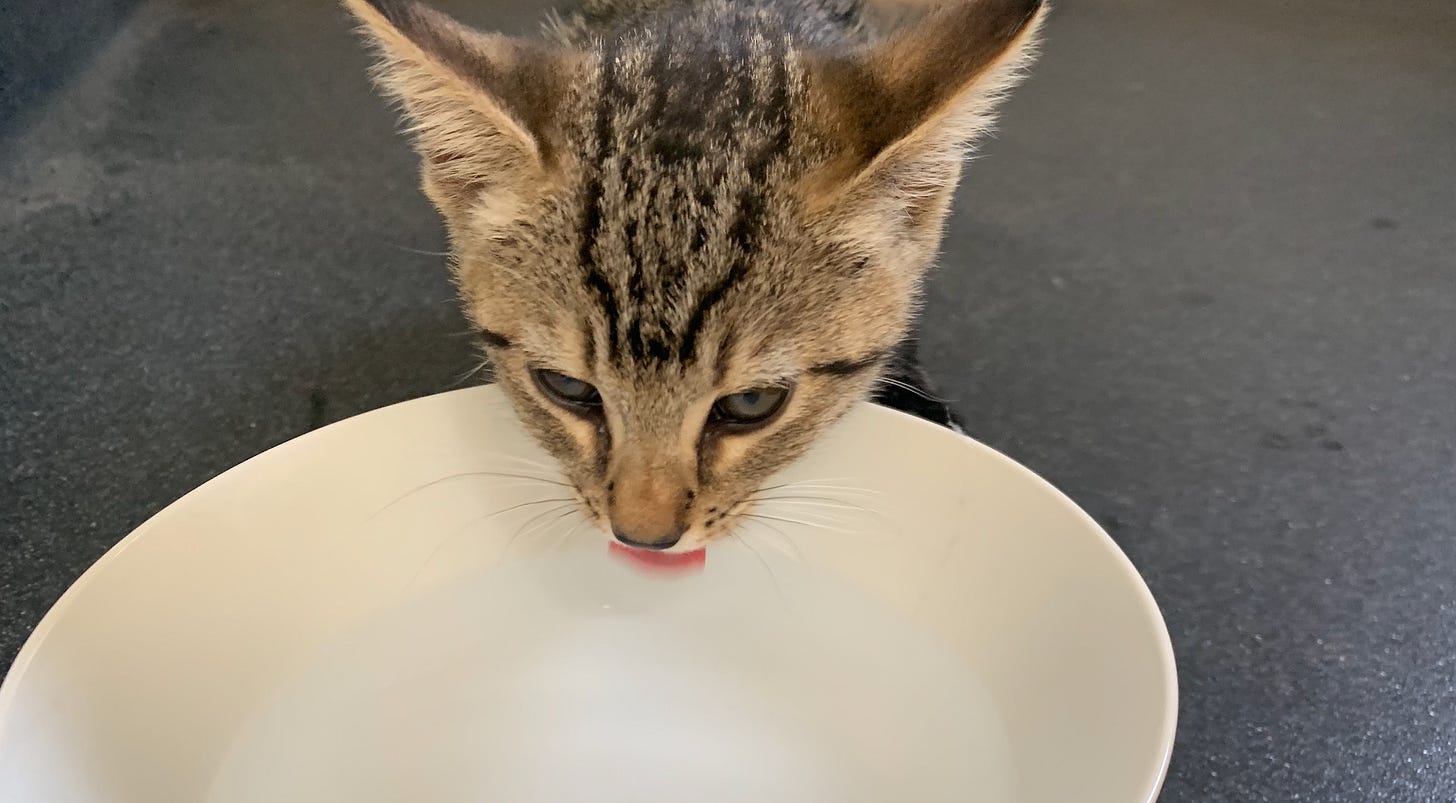 …and very hungry. We figured chicken nuggets weren't the best option, so I drove 20 minutes to get her some kitten food, which disappeared within about 30 seconds: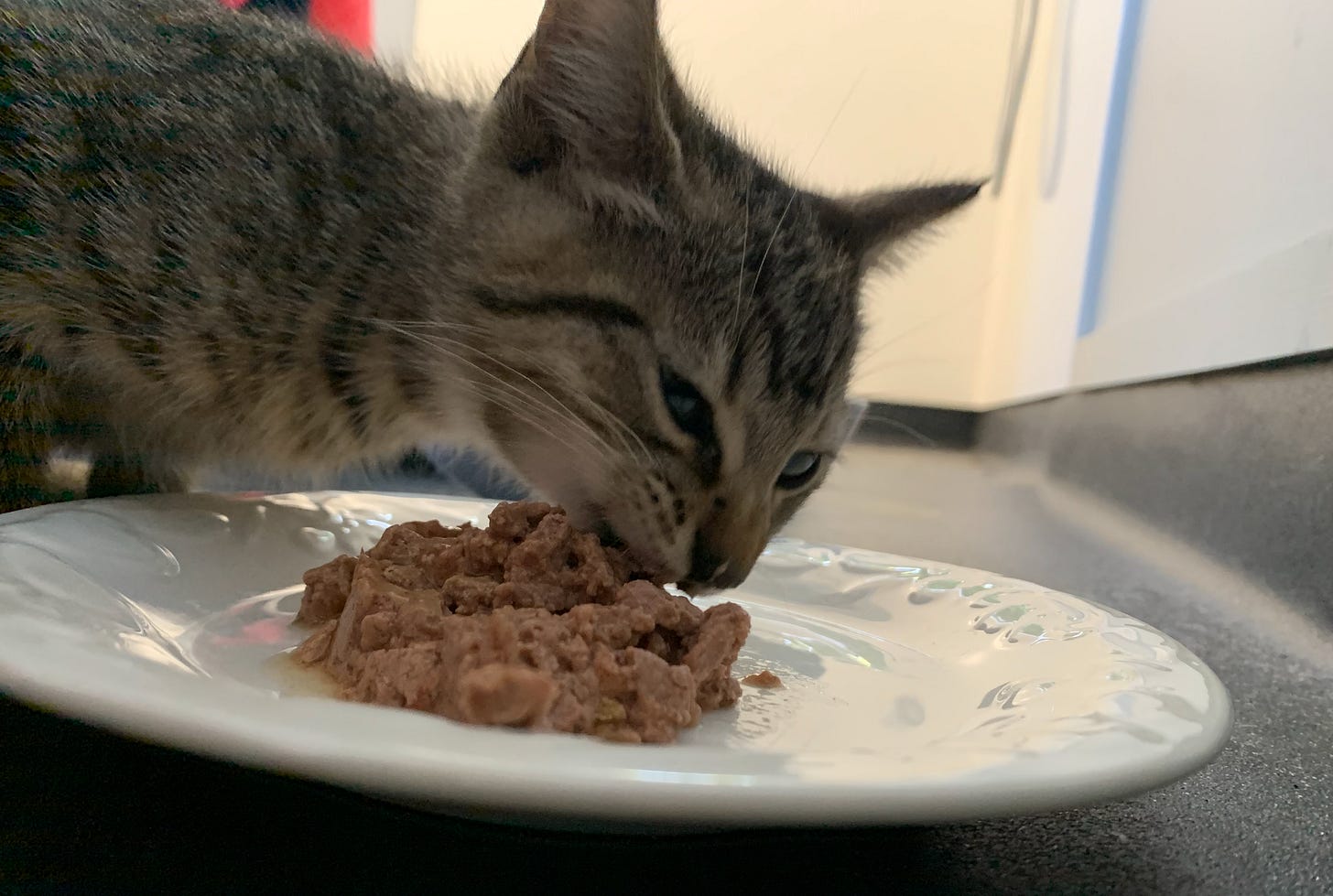 I put some kitty litter in the bathroom, which she immediately seemed to understand. I figure she was either super smart, or at one point had been toilet trained before being abandoned.
She was so needy, she demanded human presence at all times.
This is probably TMI, but even using the bathroom was barely allowed, because it meant she couldn't be on your lap.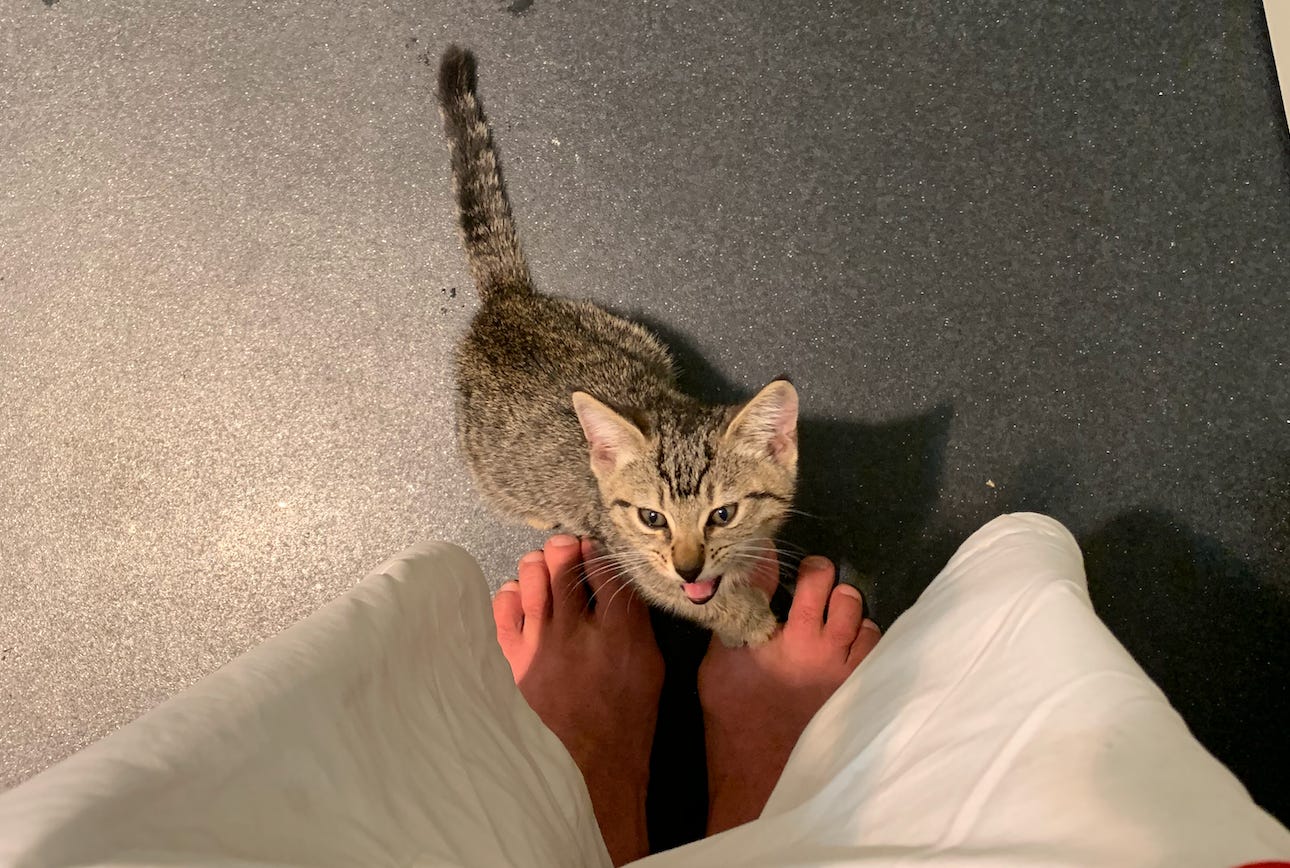 It was also clear she needed a name.
I landed on "Kiko", the name of a Japanese superstar who loves cats. You might know her from Queer Eye's series set in Japan. She also hosted a travel show last year on Hulu, where she travelled to some of the places I did in Dark Tourist. I'll be eternally jealous because she actually made it to "The Gates of Hell" in Turkmenistan (I didn't) and travelled to Uzbekistan, which was also on my wish list.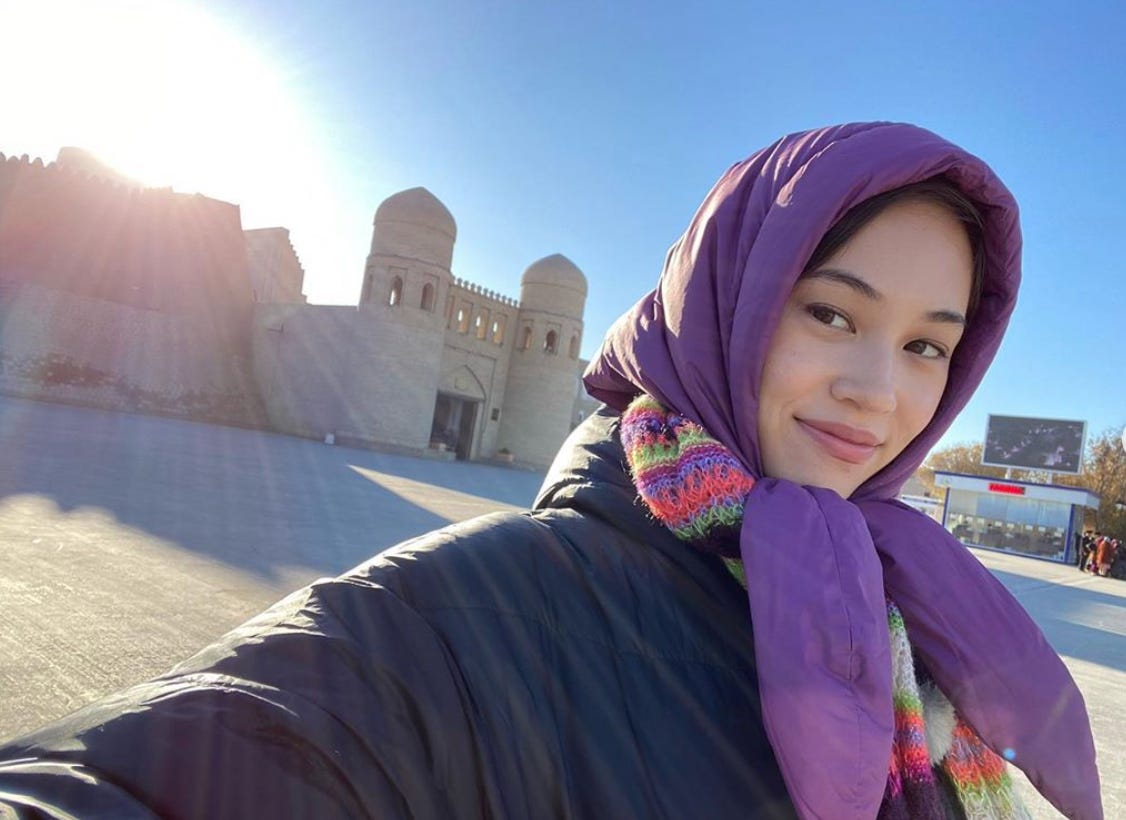 Anyway.
Kiko seemed like a good name for this lil' kitten.
And you know what Kiko really liked? Human faces.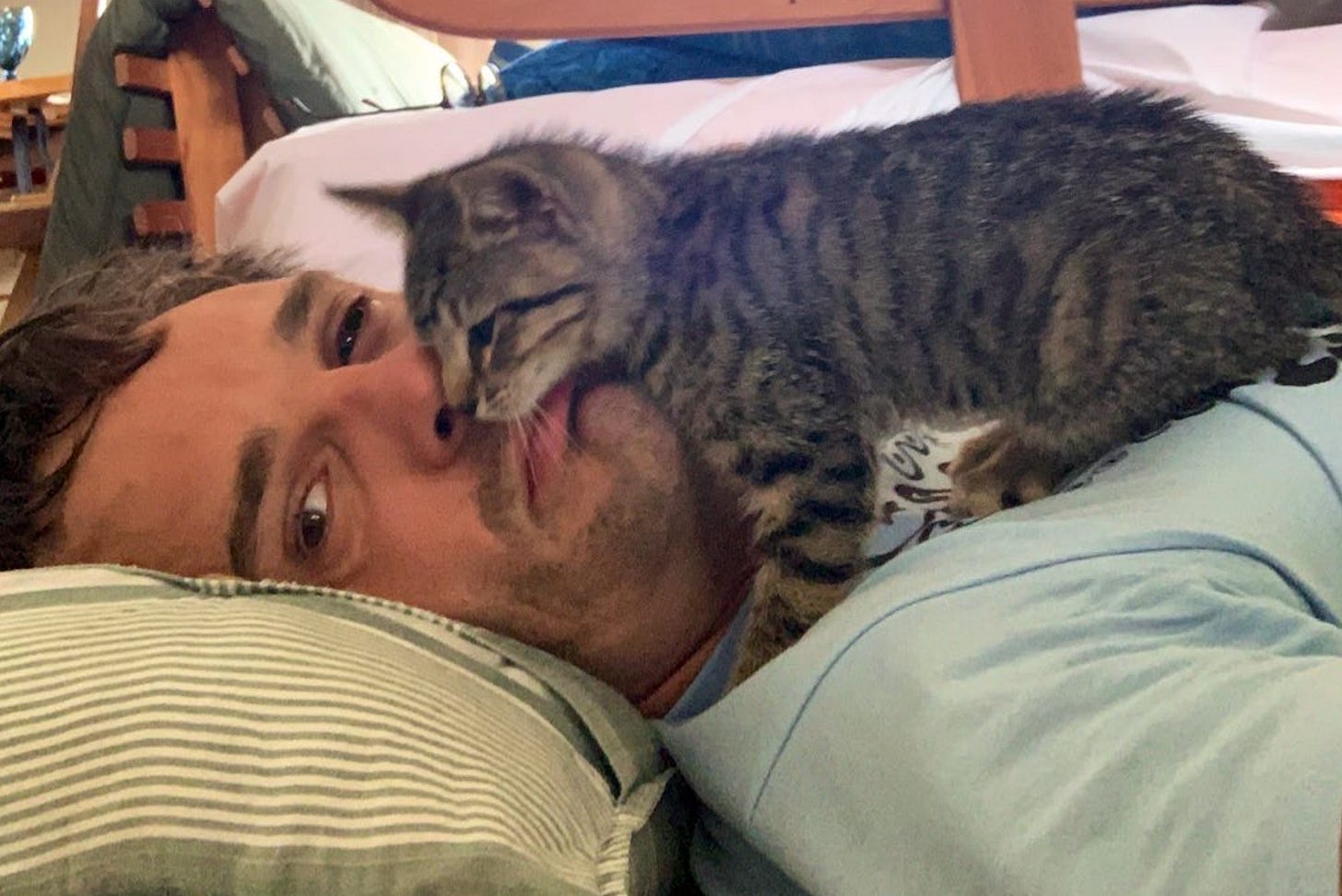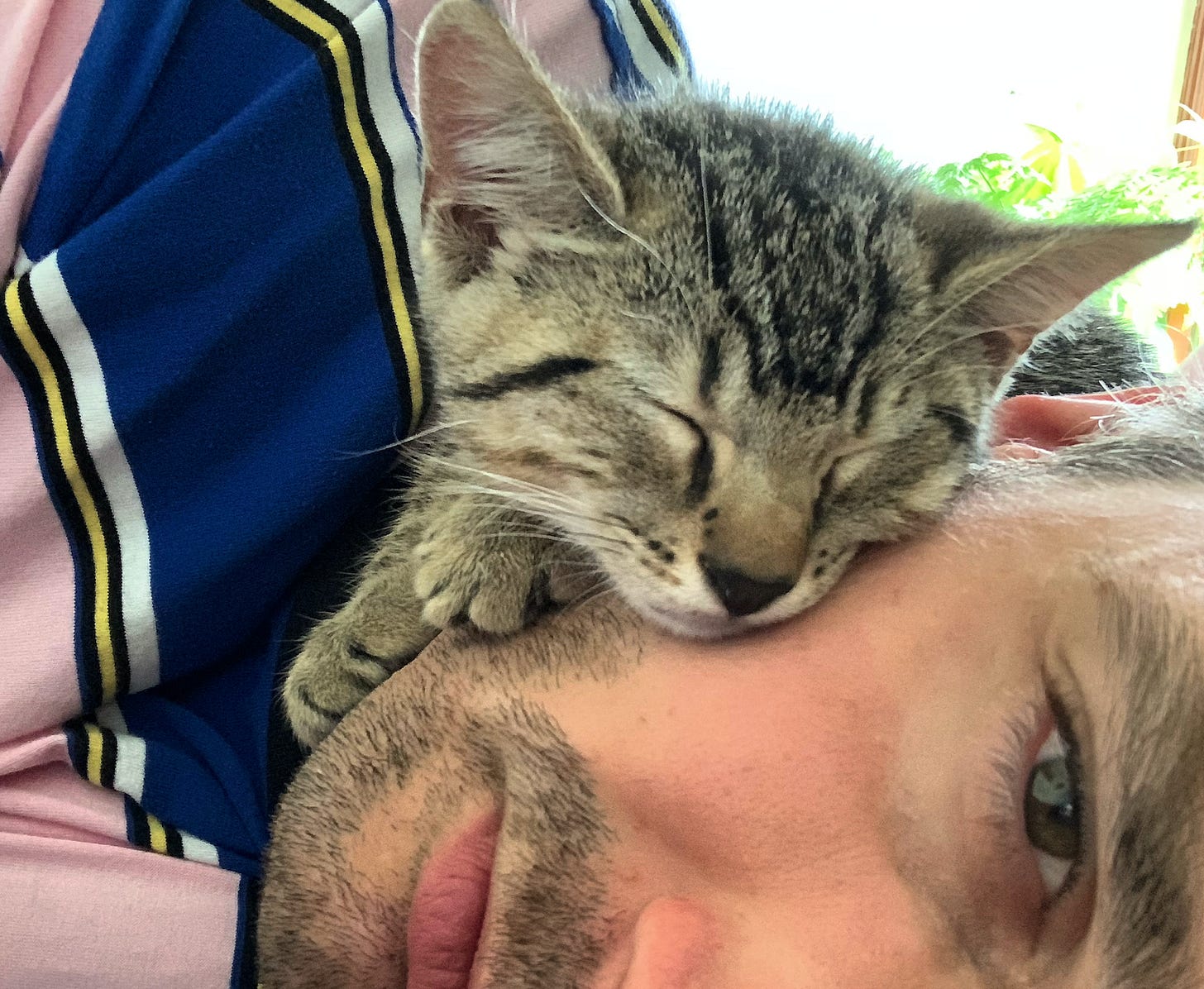 If Kiko was not on or near a face, Kiko was not pleased. This meant that anytime you were sitting up, Kiko would try and perch on your shoulder, like a parrot. And if you lay down, it wouldn't be long before you'd hear Kiko's tiny feet padding along the floor. Soon, a small warm bundle of fur would launch itself onto your neck, her tiny face nuzzling into yours.
The holiday ended, and Kiko came home with me.
Kiko had a whole new house to explore, and she did so with reckless abandon. Pot-plants were a thing to dive directly into. Couches were to climb. Every hanging curtain was a plaything. It was chaos, but a happy chaos.
And it was also time for Kiko to get some shots at the vet.
I went in with my friend Elise, and Kiko assumed her default position of sitting on her shoulder.
Kiko got her shot (the first of three she'd have to get) and the vet checked to see if she was microchipped. She wasn't.
The real shock came when we were informed that Kiko wasn't a girl, but a boy. A tiny, cheeky, needy boy. The vet really looked after us, so much so I'm actually going to give them a plug.
But trouble was afoot.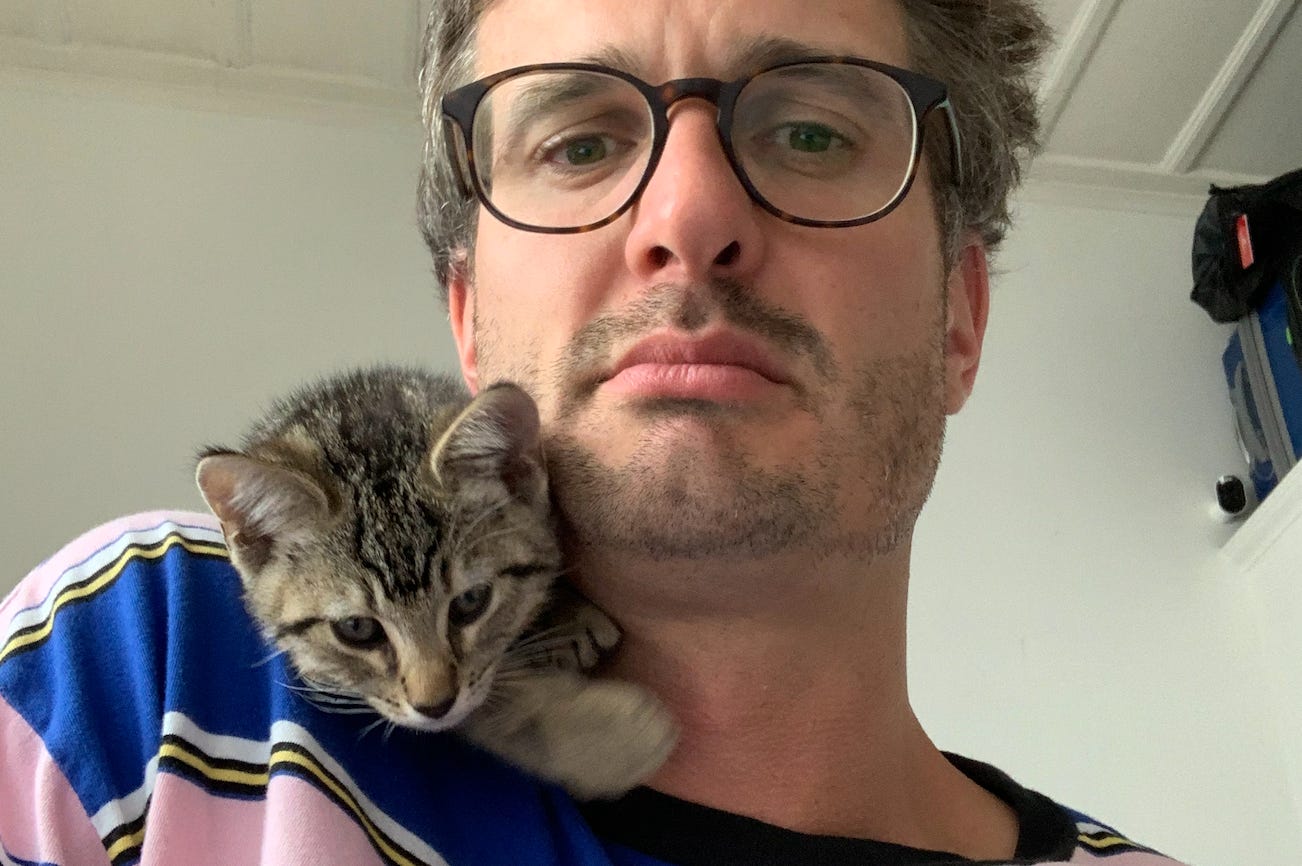 My housemate was allergic to cats. And we lived in an area with a lot of roads. I really loved Kiko, but this was not — as animal people like saying — his "forever home."
Luckily, Hayden (one of the people I'd gone on holiday with) had a brother who was in the market for a new cat.
Cam had recently gotten married to Steph, and they both loved cats. They came over to my place, and Kiko leapt on them. I mean, I'd like to say me and Kiko had a special bond, but he really did throw himself out there.
And so Kiko found a new home. One out in the countryside with a loving, wonderful family. And you know what? Kiko has a pretty great life.
Sitting on Cam's shoulder…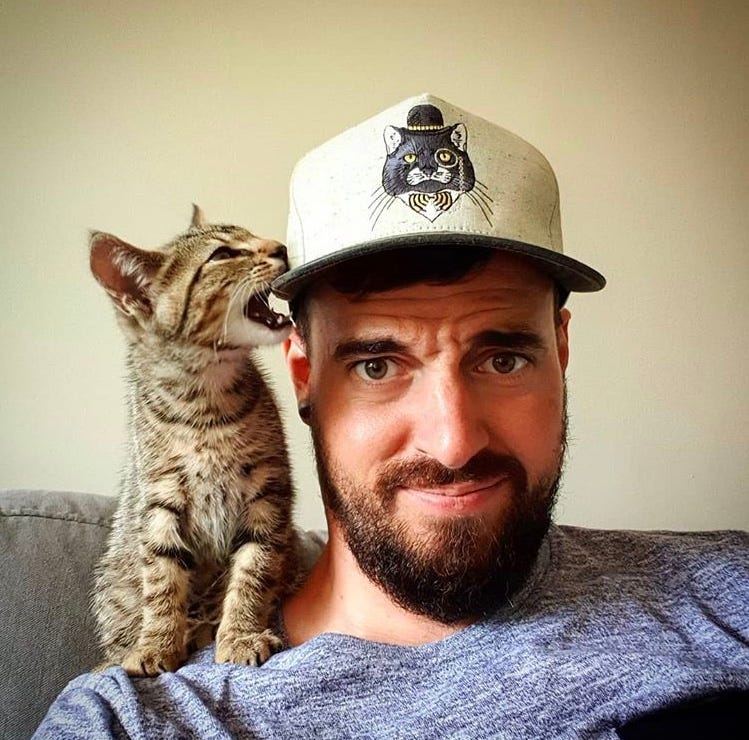 … and sleeping on Steph's face.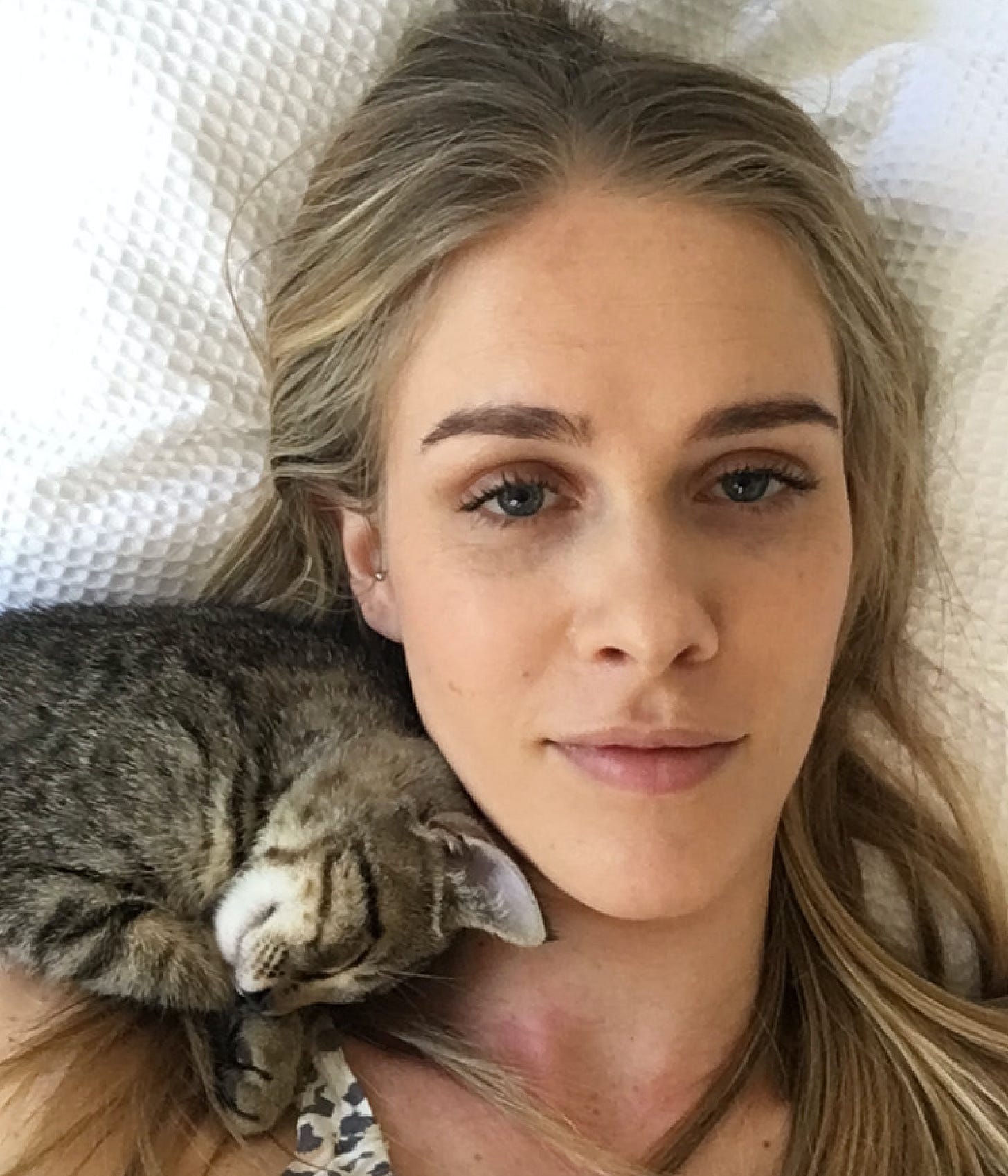 I am very lucky, as the pair often send me photos of Kiko's great life.
Oh, and I should mention he's not called Kiko anymore. To commemorate the surprise change in sex, they renamed him Kikorangi.
It's a beautiful name, meaning "deep blue sky" in Maori. And nothing could reflect the vibe of this cute lil' guy from Aotearoa, imo.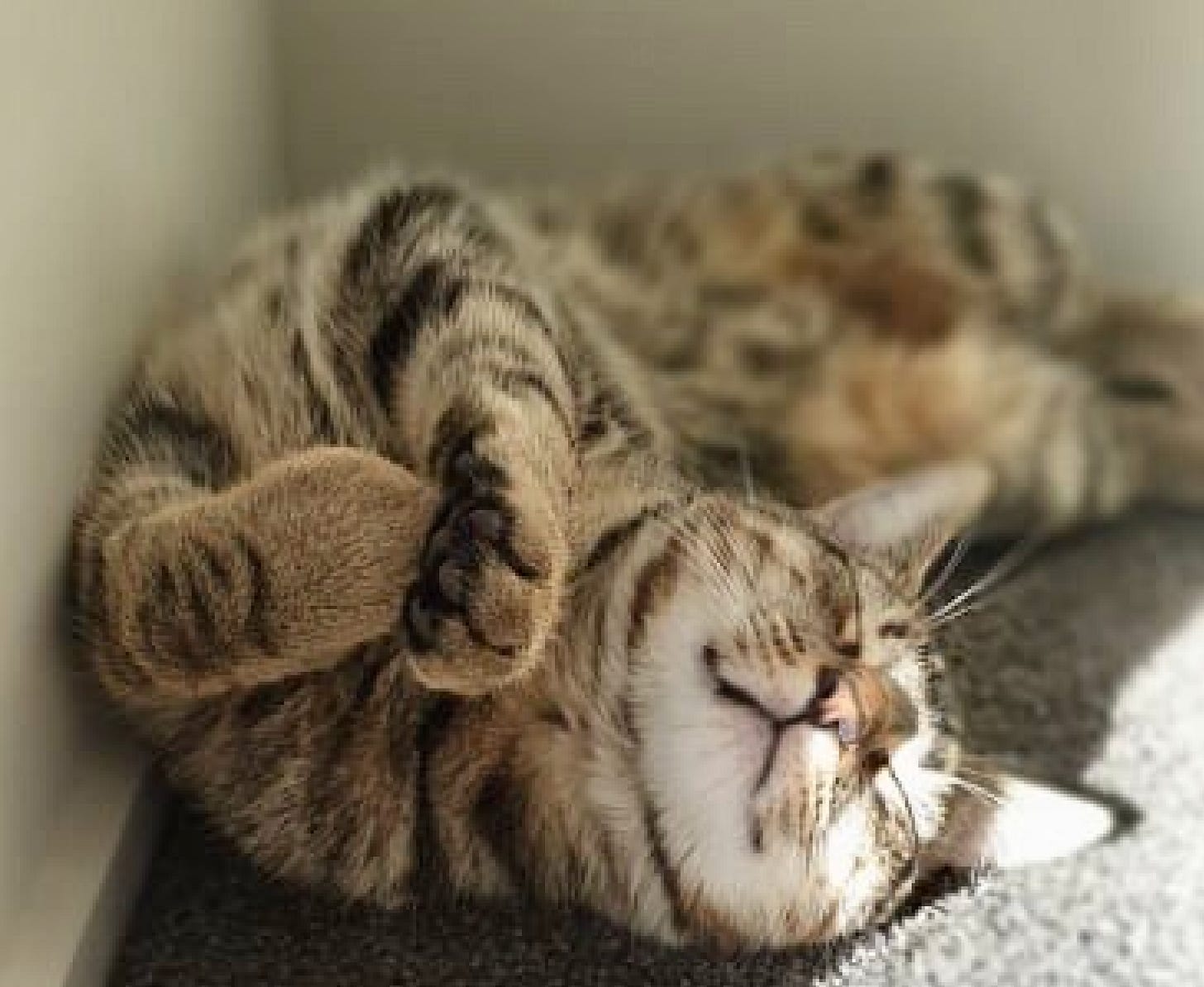 Stay safe out there, please. I hope you enjoyed meeting Kikorangi as much as I did.
David.
PS: The soundtrack to Devs is out, by the way. It's beautiful. Really good weekend listening x