Why Luka Magnotta started sending me letters from prison.
When the "Don't F**k With Cats" guy decided to f**k with me.
Hello, friend.
I wanted to say a giant "thanks" for kindly choosing to come on board to support Webworm. This is the first members-only newsletter I've sent out. It's not floating around for free online - this story's for you. I've been wanting to share it for awhile.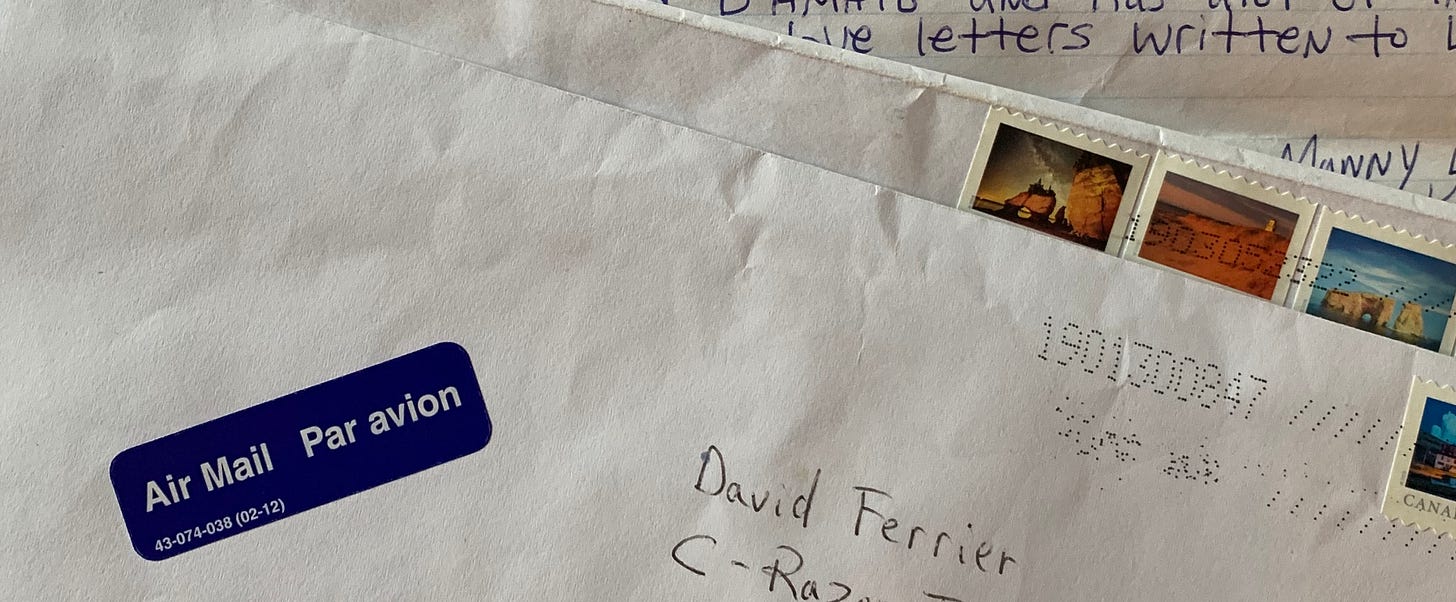 The beginning: December 2018
In late 2018, I got an odd message on Facebook. It was super vague: a made-up name, and a profile picture of a woman you couldn't really see properly.
She asked if I was the journalist who'd made Tickled.
They hinted that someone needed to get in touch with me from prison. Intrigued, I replied saying "yes, thats me, what's up?"
To rewind quickly - and apologies if you already know this and it's boring: Tickled was a film I made with my friend Dylan Reeve in 2016.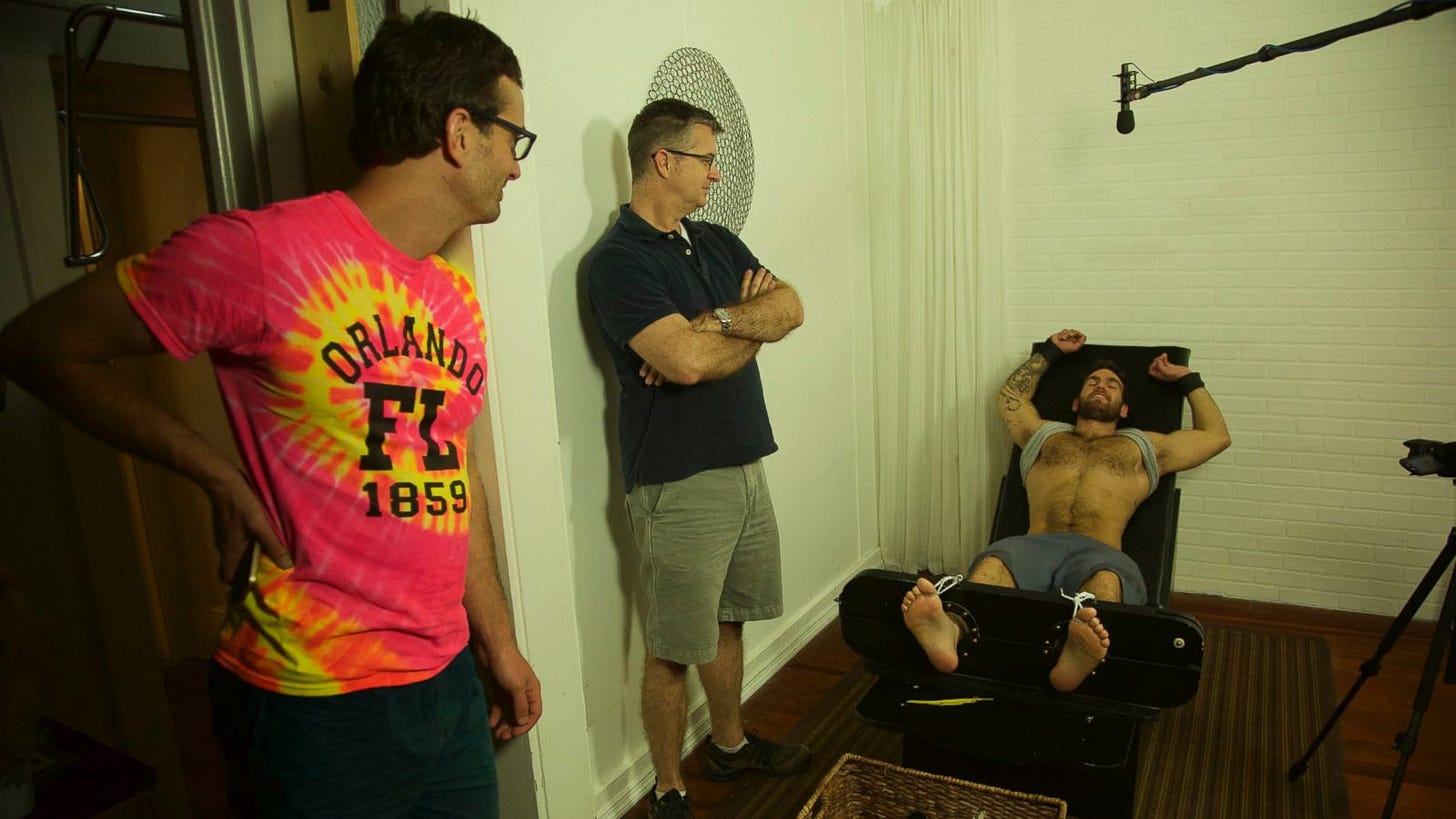 That documentary was a wormhole I stumbled down in 2014, when I started poking around into "Competitive Endurance Tickling".
Fit young dudes from all around the world were being flown to LA, and paid thousands of dollars to tickle each other on camera, all while wearing Adidas sportswear. The second I started looking into this weird sport, the company lawyered up and sent three men from New York to New Zealand to threaten me.
They also got a lawyer in the United States, Romeo Salta, to write me threatening letters too.
From there shit spiralled, and it all ended up in New York where we met a man called David D'Amato, who for the last 20 years had been finding elaborate ways to get young men to tickle each other on camera.
He'd then use those videos to ruin the lives of any of the models who fucked him off.
He'd been the subject of an FBI investigation, he'd gone to ground, and by a bit of luck and a lot of digging, we uncovered this whole complex world he'd created over the last 20 years.
We made the film, it went to Sundance, and then ended up on HBO. So it was out in the world, and not crazy that someone knew I'd made it.
Why they cared - well, that was the question.
---
She wrote back on Facebook, saying that a friend of Luka Magnotta wanted to get in touch with me, from prison.
"Luka Magnotta" rang a bell, and a quick Google brought it all home.
Magnotta was the guy behind the truly horrific "1 boy 2 kittens" clip which circulated the the Internet in 2010, in which he killed two kittens in a truly horrendous way.
Two years later, he made another video called "1 Lunatic 1 Ice Pick".
This video showed Magnotta murdering Jun Lin, an international student from Wuhan who Luka had lured into his apartment. The video is 11-minutes long. I haven't seen it, I never want to see it, but descriptions on Wikipedia include the fact Lin was repeatedly stabbed, and that Magnotta got into some necrophilia and fed some of Lins body parts to his dog.
In short, both the kitten and Jun Lin videos were horrific, and both were built to made Magnotta infamous. The clip's names — modelled after clips like "2 girls 1 cup" — were meant to go viral, and ended up on websites like BestGore.
On top of that, Magnotta also decided to mail Lin's body parts to various politicians across Canada.
Magnotta — a part time model and escort — was caught and convicted and is currently serving a mandatory life sentence in a Quebec Prison.
I gave me PO Box to the mystery Facebook person to pass onto Luka's prison friend, and forgot about it.
---
January 2019: Jonathan.
A month or so later, I got a letter. It was from Port-Cartier Prison in Quebec, the same prison Luka was in.
The man writing was Jonathan, who claimed he was serving time with Luka Magnotta.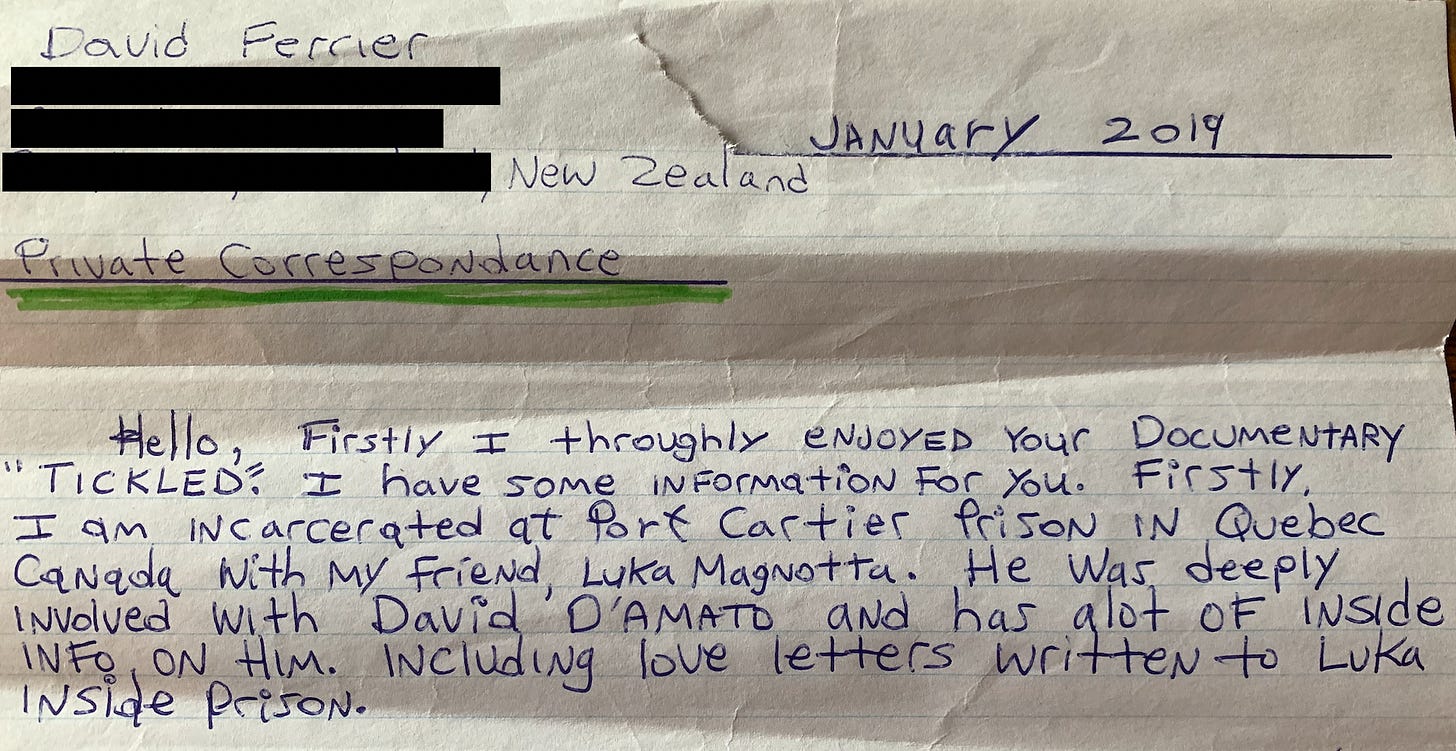 My name was spelt wrong - a bad start - but then they gave me a compliment about Tickled, so I forgave him.
Then came the line that made me sit up and take notice:
"He [Luka] was deeply involved with David D'Amato and has a lot of inside info on him. Including love letters written to Luka inside prison."
I thought about this for a moment. It wasn't entirely out of the question that D'Amato could have been involved with Luka in some way.
D'Amato lived a lot of his life online, as did Luka.
And Luka was kinda D'Amato's type, judging by the people he recruited for his tickling videos.
I read on, and things got more intense: "Luka has been framed by David D'Amato, Manny Lopez and John Bittrolff."
Who are these three men?
Well, Magnotta has been banging on about Manny Lopez for ages, claiming the mysterious man had set him up for the murder, after years of physical and emotional abuse.
I don't know much about John Bittrolff, except he's a convicted murderer serving a life sentence in a different prison to Luka.
David D'Amato - well, I know who he is, don't I.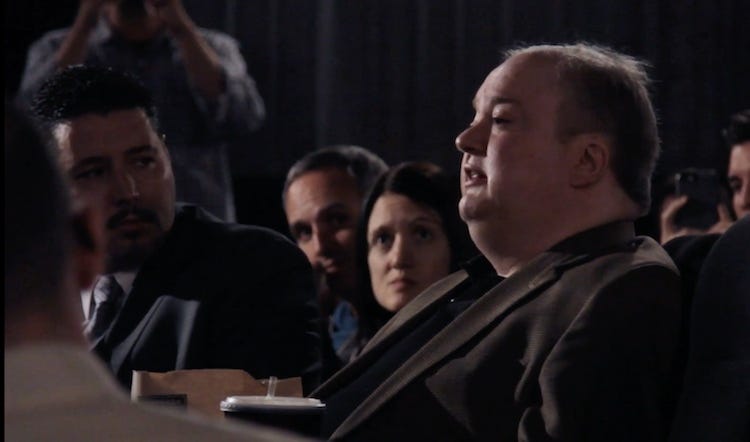 ---
Enter Romeo Salta.
Jonathan went on:
"David [D'Amato] introduced Luka to Romeo Salta… google the links…"
Another familiar name, Romeo Salta was the New York lawyer hired by David D'Amato to send me threatening legal letters telling me to stop making Tickled.
I ended up meeting Romeo at his office, and he's in my film: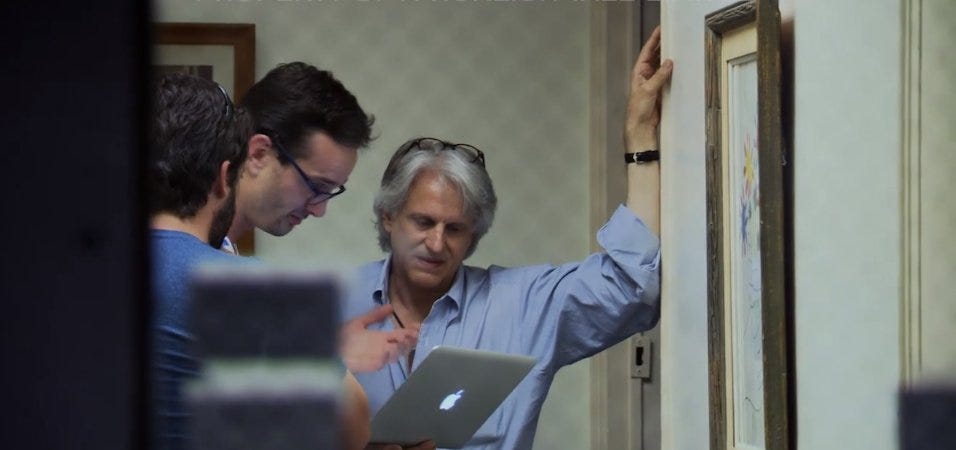 What Jonathan was claiming — that D'Amato had introduced Luka to Romeo — wasn't out of the question.
We know for a fact Luka Magnotta had definitely met with Romeo Salta, when he was worried Manny was stalking him:
Joel Watts, a defence psychiatrist who later conducted a forensic assessment of Magnotta, said he researched Magnotta and found that Magnotta had been talking about Lopez for years. Romeo Salta, an attorney whom Magnotta approached after being accused of animal abuse, said that Magnotta was complaining to him about Lopez a year and a half before Lin's murder.
It was super weird to imagine that as well as being hired by David D'Amato, Romeo Salta had also been approached by Luka Magnotta.
Jonathan's letter ended with this:

It was all so weird.
Was there a possibility that Magnotta had approached Salta because David D'Amato had passed on his details? Or was it just a freaky co-incidence?
I wrote back to Jonathan, saying I was happy to hear any evidence from him, or Luka himself.
---
February 2019: A documentary crew gets in touch.
Around that same time, I got an email from a production company in the UK, who told me they were making a documentary about Luka Magnotta.
They wanted to talk to me, and left me a cell number. We texted back and forth a bit, and they told me about the production: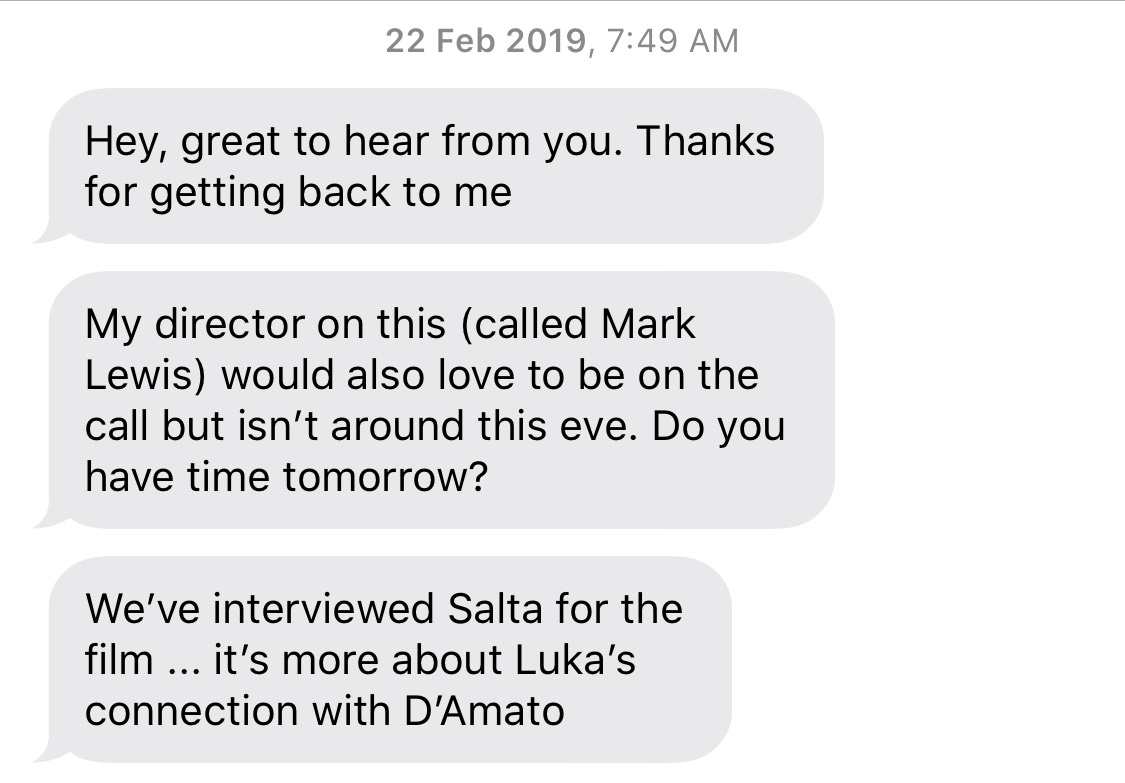 It turns out Luka had been telling this production about D'Amato, too.
He'd told the documentary makers that David D'Amato had set him up, and that it was all his fault he was in prison.
They'd reached out to me to ask if I thought there was any truth in this.
I told them that I honestly didn't know.
I certainly hadn't found any evidence while making Tickled that showed any link between D'Amato and Magnotta. But that didn't mean there wasn't one.
The only clear link was that both men had met with Salta, the silver haired attorney that looked a lot like Michael Douglas.
The documentary being made, of course, was Netflix's Don't F**k With Cats.
Salta stars in the later episodes.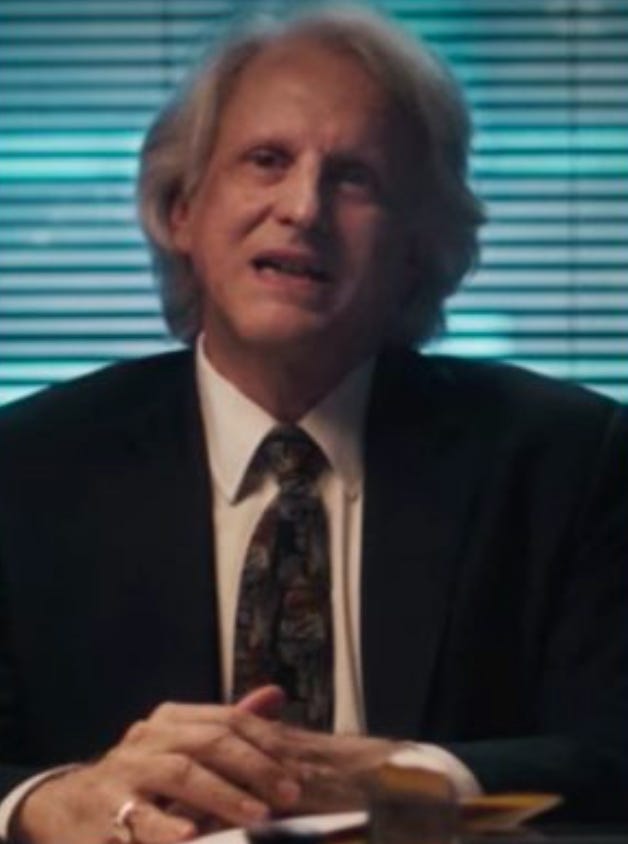 ---
March 2019: Luka Magnotta starts writing to me.
You know the weirdest thing about Luka's letters?
He colours them in to look like a fucking tropical sunset.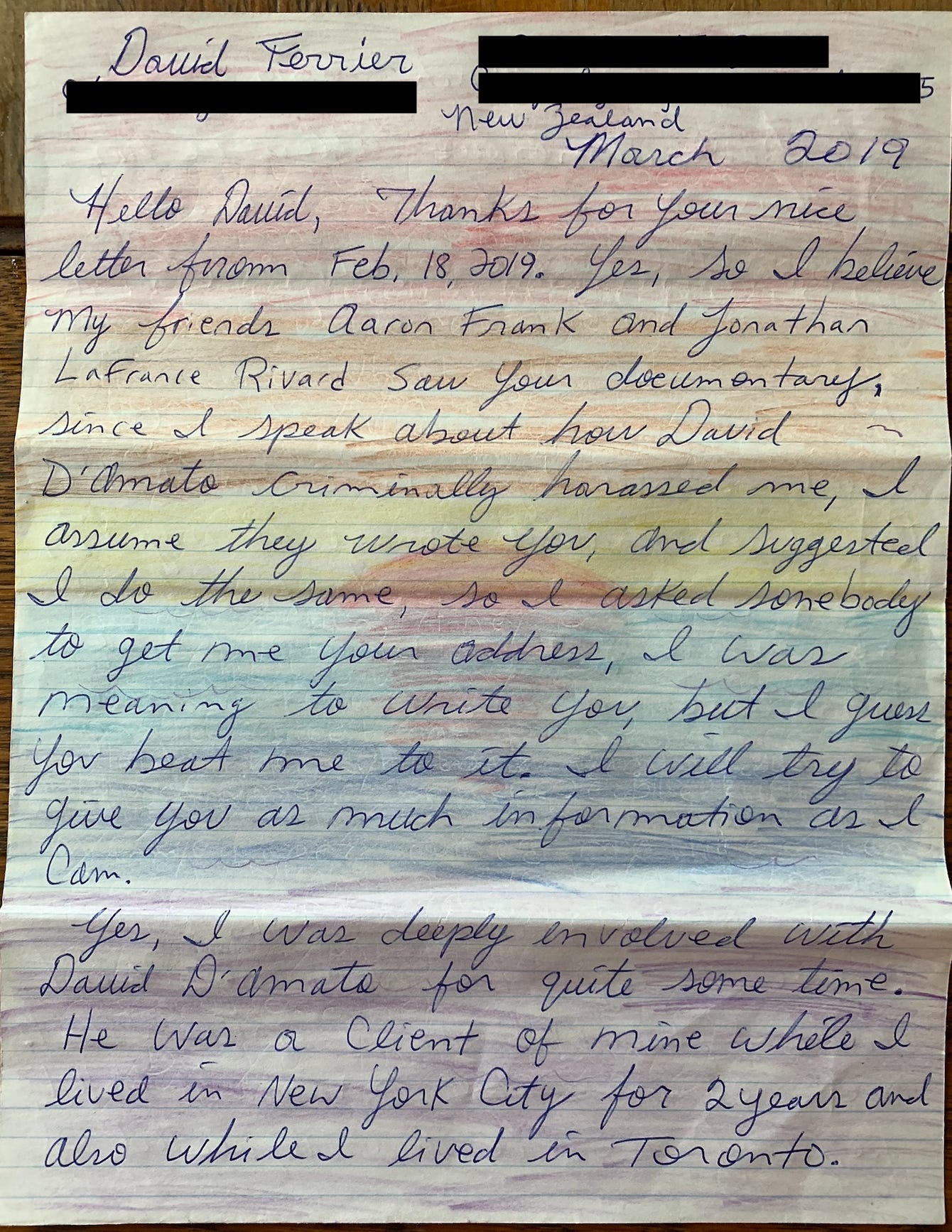 It's weird writing back and forth with someone like Luka. Not only did he commit these horrible murders — he committed them to become famous. He spread the videos as far and as wide as he could.
As Don't F**k with Cats showed, he was a giant narcissist, seeking fame on TV shows and online. When all that failed, he turned to murdering kittens. And then people.
And now here he was, reaching out to me — echoing everything Jonathan had told me. Telling me David D'Amato set him up.
And on top of that, he claimed D'Amato had also used him as an escort.
"Yes, I was deeply involved with David D'Amato for quite some time. He was a client of mine while I lived in New York City for two years, and also while I lived in Toronto."
The letters were long, rambling things. His main aim was to prove that he was innocent. In the past he'd always blamed the mysterious Manny.
Now he was telling me it was also David D'Amato.
This is what Luka wrote to me. I've edited it so it's less rambling, and makes more sense:
"I have numerous letters [D'Amato] has written to me while I've been incarcerated. Some signed by him, other under alias names I know were him.

I was indeed framed by Mr D'Amato. He caused irreparable damage to my life, image and reputation.

He posed as me online for years in order to intimidate me and terrorise me. He needed to control me and I absolutely refused to allow that to happen.

We first met over a decade ago. He was my client while I worked as a male escort. We met at the Marriott Hotel.

He had a suite and requested I wrestle with him.

We had wine and room service and he told me he was there on business. He loved to wrestle, and I had no idea he was into tickling. When he returned to Toronto, we had a similar session, he paid me money to find him other rent boys.

He asked me if I wanted to travel and I said yes, I travel all the time while working as a top male escort.

He told me to pick a place to go.

I thought it was all bullshit but I said "Italy". He was serious and called to book a vacation. He got onto the phone and dialed Air Canada on speaker for me to hear.

He asked me to do strip show for him around the bed post, so I did. Similar to the film "True Lies" if you've seen it.

Three weeks later we were in Switzerland. He needed copies of all my identification. It was a mistake. While in Zurich, he left on "business" and told me to travel to Milan which I did alone.

I met up again with him in Zurich and we went to Croatia. He met some men for "business". He was paying for boys and I was sure of it.

He became infatuated with me and began to stalk me and criminally harass me.

I made numerous police reports. The Toronto Police are useless. You have no idea how truly fucked up he is, or maybe you do.

He knew I was having problems with Manny Lopez.

He begged me to allow him to "help" me with legal fees. He did give me money to pay Romeo Salta. He gave me Romeo's phone number.

I'm tired of people thinking I'm a narcissist… I'm also tired of history being edited. I have zero mental disorder, I love animals…"
I'm gonna stop him right there.
That last sentence tells you all you need to know about Luka Magnotta: he's full of shit. Colossal amounts of shit.
Loving animals is as far from the truth as you could get.
There are red flags all through his letters to me, and despite claiming he had letters from D'Amato, he never provided me copies or handwriting samples.
I asked. They were never sent.
There is zero evidence that D'Amato had any contact with Luka: most of D'Amato's day-to-day interactions in real life were uneventful. He created havoc online. He wasn't jet-setting to fucking Zurich and hanging out with rent boys.
Magnotta has a lot of mental health issues — that was all made clear in the trial.
Amongst a myriad of issues, he is a huge narcissist.
And he's on camera, killing kittens, and killing a human being. Both are brutal, prolonged attacks. He's also a murderer and a liar, and in a way I'm a bit conflicted about even printing his words. They don't deserve the light of day.
But I chose to share them here, because I feel like you and this Webworm community will "get" it. You will be fascinated and curious like I was, and you will understand there's a very good reason Luka is locked up for a very long time.
And his motivation was clear: He was fucking with me, so he could manipulate the documentary crew of Don't F**k With Cats.
He figured if he got me on side with his narrative of D'Amato being behind it all, it would mean when the documentary crew asked me about it, I would validate his claims.
Well Luka: You can fuck right off.
I got back in touch with the Don't F**k With Cats producer, telling them Magnotta was full of shit in regards to his D'Amato claims. Which is part of the reason none of those lies made it into Don't F**k With Cats.
The last time Luka wrote to me, he ended by saying "I wish you all the best".
I don't return the sentiment.