Discover more from Webworm with David Farrier
David Farrier's weird investigations, quirks & oddities delivered direct to your inbox!
When body modification goes very, very wrong.
As well as some important news about Riverdale & tickling.
Hey, hi, hello.
So Nicolas Cage is gonna play Joe Exotic in the Tiger King series, and Tom Cruise is reportedly teaming up with Elon Musk (who just had a baby with Grimes) to shoot some of the next Mission Impossible in space.
2020 continues to be… something.
I hope you're doing okay out there.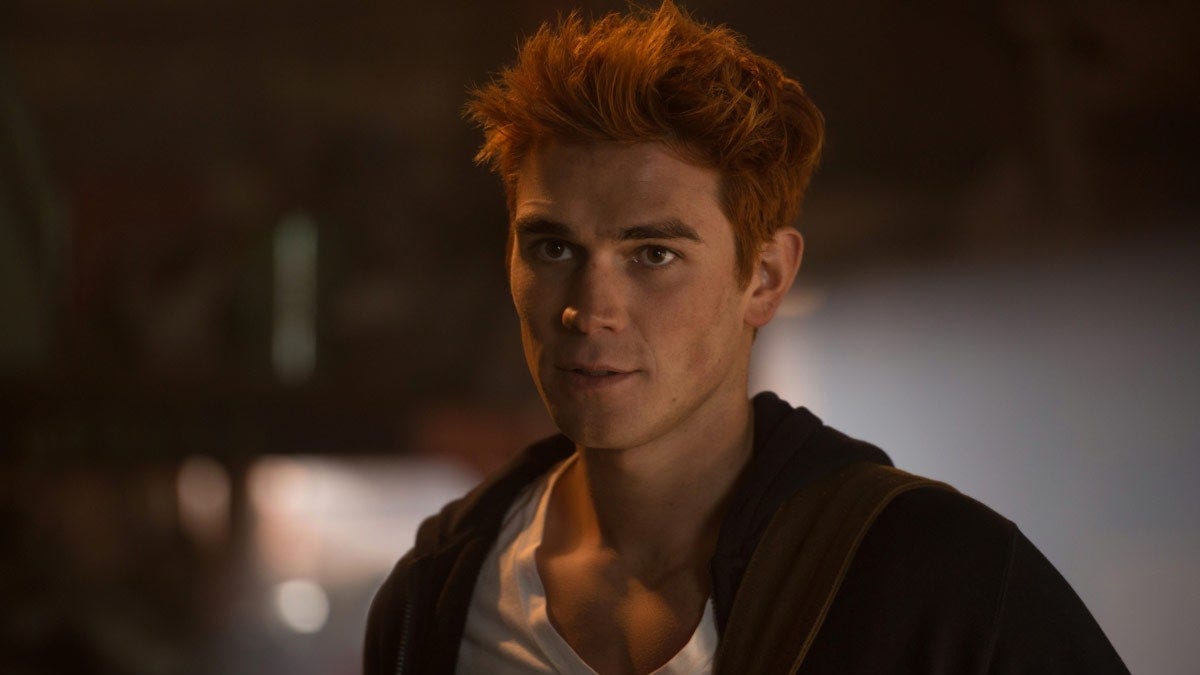 It was really fun publishing Tickled 2: This Time It's War last week.
The story from this lil' newsletter got some traction - film websites like The AV Club picked it up, and here in New Zealand my old home TV3 wrote about it.
I like that it started here - from me to you - before spreading out from there. You got it first. I like that!
I was also excited that Newsweek reported on it, because they're a big American newsroom and they're gonna push into the story even more:
"When reached by Newsweek, the United States Marine Corps agreed to investigate the matter. This story will be updated with any additional information".

I also had a few people write to me telling me about the latest twists and turns on Riverdale. The latest season of the show - which stars New Zealand dreamboat KJ Apa - has had quite a left-field tickling storyline that's been going on for awhile.
But the latest development? Turns out the tickle fetish character is actually named 'Terry'. You may recall David D'Amato posed as 'Terri Tickle' when he was getting young dudes to tickle each other on camera.
My question: Chance, or co-incidence? So I reached out to one of the writers of Riverdale on Twitter, and they had this to say (lol):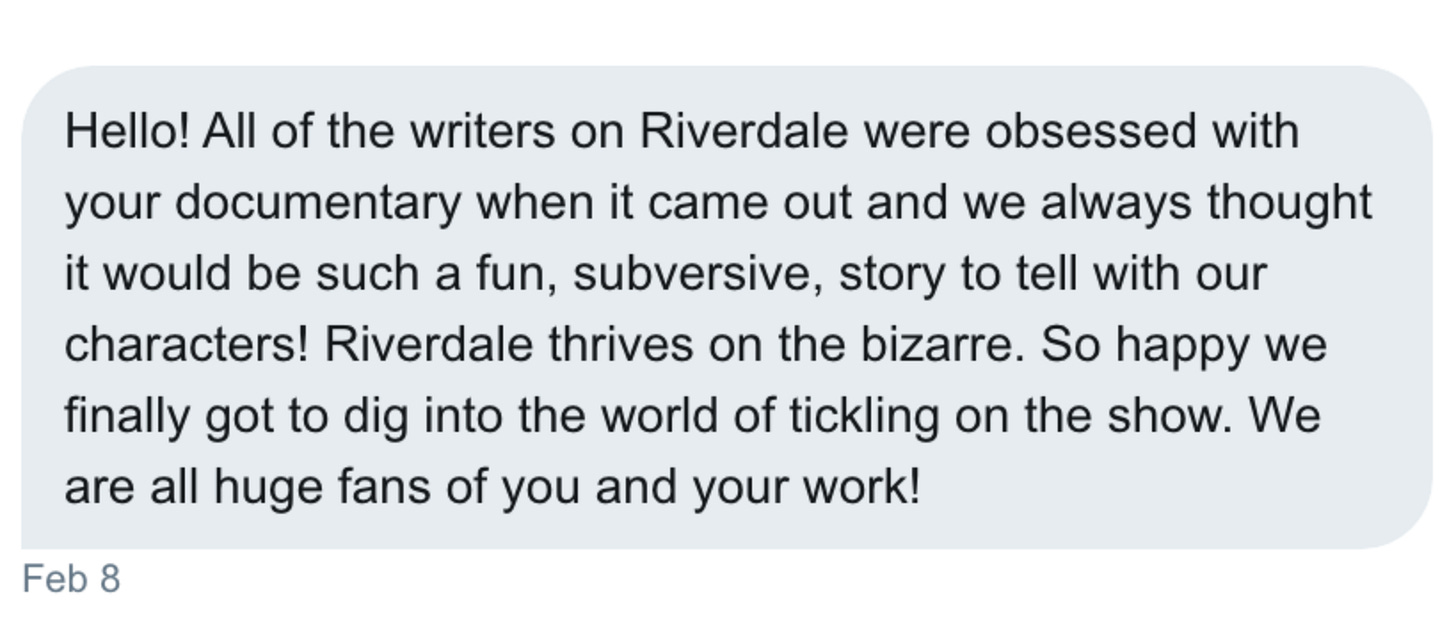 This is very funny to me. I love it. And - thanks, Riverdale!
---
Noodles & Beef.
Back to that Newsweek piece again, for a quick deviation. The other reason I was excited about the Newsweek story was because of who wrote it.
Daniel Villarreal.
Dan wrote one my favourite stories in recent memory - Death of a Kinkster - back in 2018. When I say "favourite", I'm not saying I was a fan of what went down, because it was all quite fucking horrible. But I'm a fan of the story Dan wrote. It was bizarre, riveting and utterly mystifying.
And I wanted to share it with you.
It's the story of 'Noodle's and Beef' - AKA Dylan Ray Hafertepen, a member of the Dom/sub fetish community in San Francisco. He lived in what appeared to be polyamorous bliss with with a bunch of his submissive "pups". And his social media following loved it:
 They look like one big, burly, beaming family. It's no wonder that Hafertepen's Instagram amassed 60,400 followers, that his weekly newsletter had more than 200,000 subscribers, or that his personal blog, NoodlesAndBeef.com, had 2.2 million readers."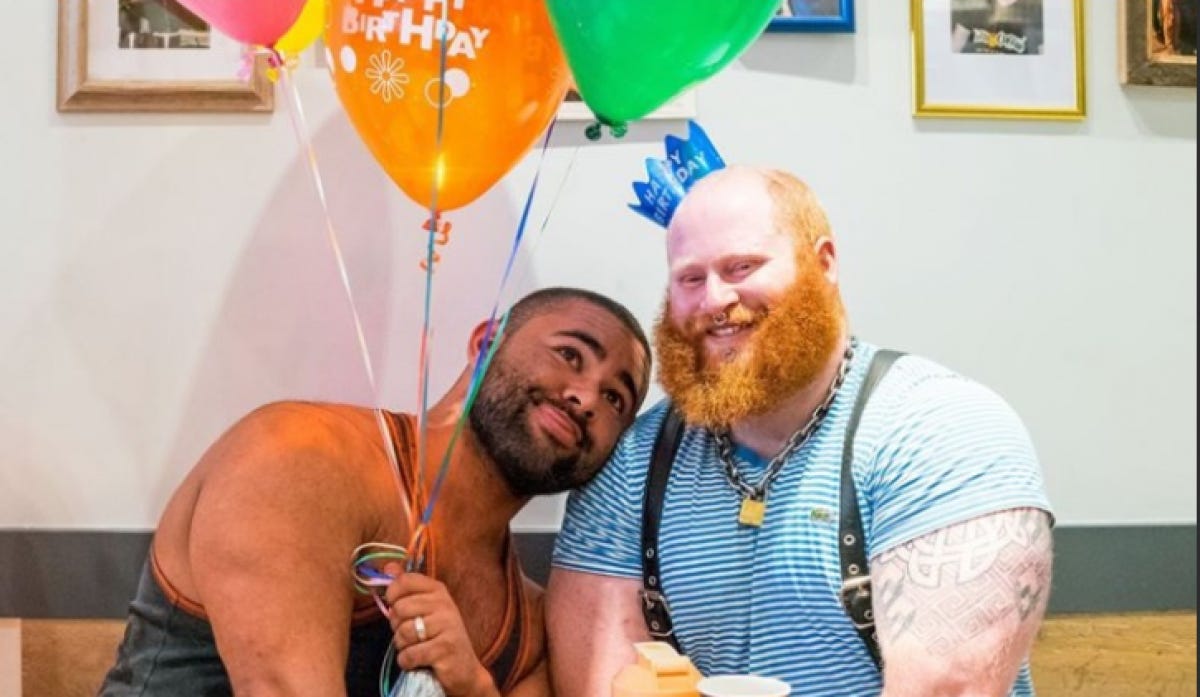 But Hafertepen shut down all those accounts when one of his subs, 'Pup Tank', died.
Originally it was thought 'Pup Tank' (real name: Jack Chapman) had died due to a "previously undiagnosed lung ailment." But it turns out his testicles killed him. Or rather, what he'd done to his testicles. Apparently 'Noodles and Beef' had pressured him into injecting them with a lot of liquid silicone.
"His Tumblr (as well as the Tumblr accounts of several of his pups) contained numerous images of their engorged scrotums, dramatically increased in size due to liquid silicone injections. In one picture, Tank's testicles dangle outside of his basketball shorts, his nuts roughly the size of two dodgeballs. It may sound weird, but such injections are a fetishized form of erotic body modification. Some men fetishize enlarged scrotums as a sign of potency, much like the bronzed huevos dangling from the Wall Street bull."
Where the story goes from there - well, it's got more twists and turns than Tiger King (which I think probably sucked, btw, but that's a story for another newsletter).
It's a combination of shocking, informative and deeply sad. It's also a really nuanced piece: it's never out to fetish-shame anyone, rather to carefully analyse how things got so out of hand.
So, please read Dan's piece here about the madness that was 'Noodles and Beef'.
---
After Dan's Newsweek piece ran about tickling in the USMC, I heard from one of the marine's in my story.
He told me he'd actually gotten an e-mail from 'Terri' as late of February 23, 2017.
I saw the email, and the tone was familiar. It was sent just under three weeks before D'Amato passed away. I can only surmise that those old habits were hard to break.
It's deeply sad, and reminded me of the 'Noodles & Beef' story. A fetish — starting innocently enough — running out of control. Somewhere along the way, a basic regard and respect for other humans thrown aside, like trash.
Let's all try and look out for each other, okay?
---
With that in mind, I've made some playlists for you.
You may know about this already, but if it helps during these weird ol' days we're living through, I've made a playlist of my favourite tunes over on Spotify, and another list that is specifically for moody, long walks.
I've also compiled my top 100 films over on a site called Letterboxd. I love the site - and even better, it's run by New Zealanders.
One of the films on that list is Annihilation - a sci-fi found on Netflix. I read this essay about it recently, and if you like the film, I recommend you give it a read: 'Annihilation' Shows How We're All in This Together, Whether We Like It or Not.
Or if that's too heavy for you, maybe just stare at this majestic cat that I walk past most days: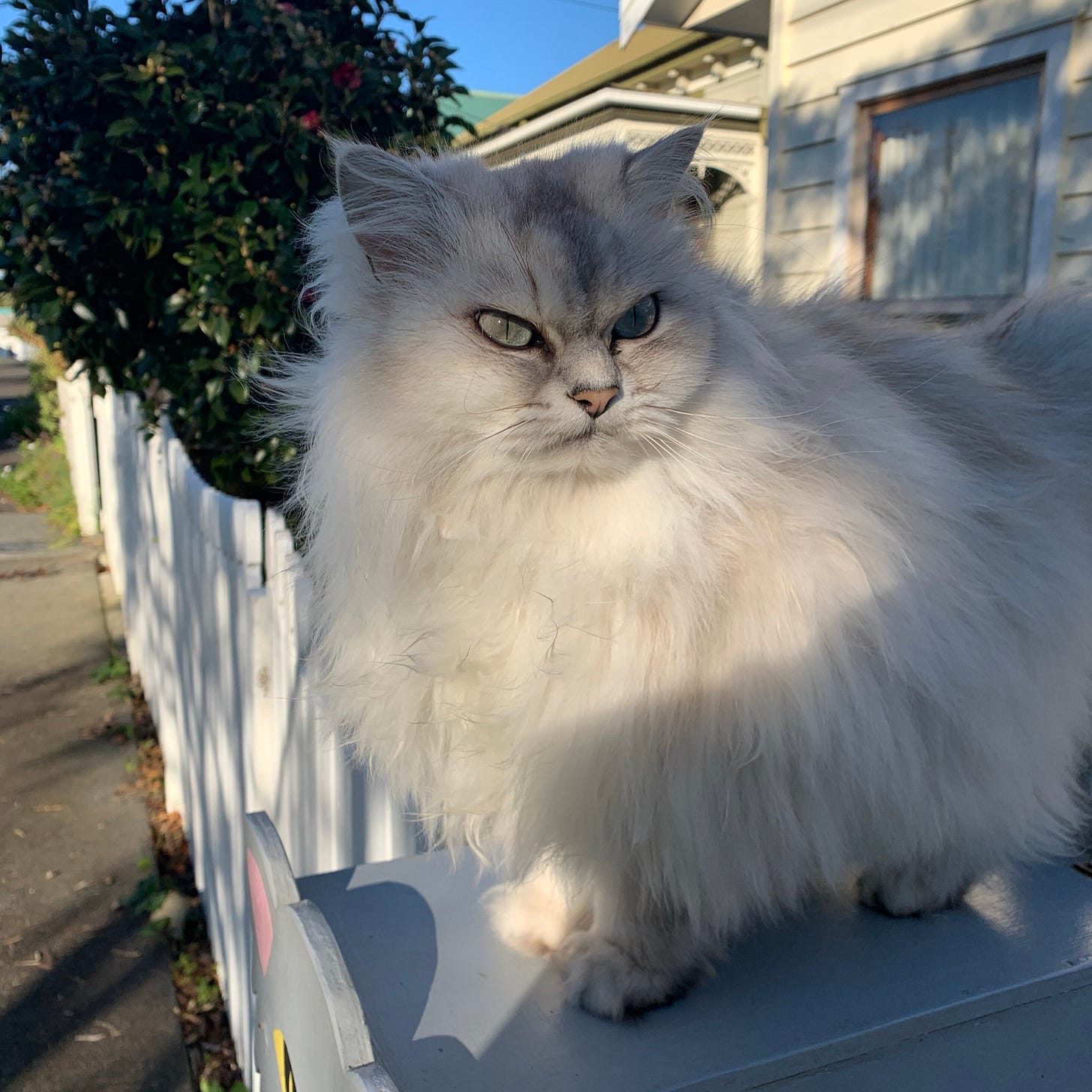 Thoughts on Patreon / contributing to
Webworm.
I had a few readers get in touch last week asking if I had a Patreon, as they'd like to support my writing here. The short answer is, no I don't.
But it's a really kind offer, and at some stage I may make a "subscription" option on Webworm if you did want to contribute $5 a month or something. I'd always keep my main stuff going out for free, but it would be a way for people to give if they wanted to, and had the means.
I'd probably do an extra post or so a week for them, that's a bit more personal (no nudez) - maybe a monthly Ask-Me-Anything. What do you think?
I suppose the biggest way you can help me is to just tell your friends. I'm not advertising this thing, it's just word of mouth. So send friends to webworm.co to sign up. The more people I reach, the more fun it is for me to write, as I know people are reading!
With that in mind, thanks to Jackson for spreading the word this week: I think you nailed the vibe of Webworm perfectly.
---
Thanks - and talk to you soon. Things here in New Zealand are feeling positive. Yesterday we had our second day of zero new cases of Covid 19. Giant kudos to Jacinda Ardern and my fellow New Zealanders for - mostly - following the rules.
With that in mind, later this week I'll have an update on my Covid 19 love affair with Sophia, and I've been in touch with Gregor from my favourite podcast, Heavyweight. I'll have an update on him and Moby.
Much love,
David.